Cloud technology giant SAP aims to enable enterprises to make digital transformations that can result in significant increases in revenue and efficiency by connecting processes and making their internal systems, data and networks more intelligent.
SAP Africa had its first-ever "drive event" in Nairobi for customers and partners in November 2022 to explain more about business innovation and transformation and to show companies how with the right technology and insights, and with the right partner, they can grow exponentially.
SAP bills itself as the "coolest software company you have never heard of" running the critical systems of top companies in diverse industries like ice cream, pet food, beauty products, and finance where 77% of all global transactions go through an SAP system.
Excerpts:
Why Innovate? Hardeep Sound, the SAP Regional Director, East Africa said that since 2000, 52% of the Fortune 500 companies have gone out of business. In Kenya, household names like Intercontinental and Tuskys were among the 1,300 and 2,530 companies that folded shop in 2020 and 2021 respectively.
The pace of growth has also accelerated in recent years; whereas between 1955 to 2011 it took a Fortune 500 company 20 years to reach a billion-dollar valuation, today they are getting there in 4 years. He said that companies in Kenya could enhance their value by mining customer data, doing analytics, managing customer relationships and experiences, managing human resources, digitizing supply chains, and monitoring how they spend their resources.
Easy Connections: Stanley Dube, SAP's Head of Presales in Africa explained how Nokia sold 126 million model 3310 devices, and while his still works 22 years on, the company is a shell of its past. He said that one teaches people how to use phones and applications – they simply buy new devices and start using apps, without realizing how they are partners with companies like Apple and Google who do software updates and backups in the cloud. And if someone loses their phone, they can recover everything back in a matter of hours on a new device.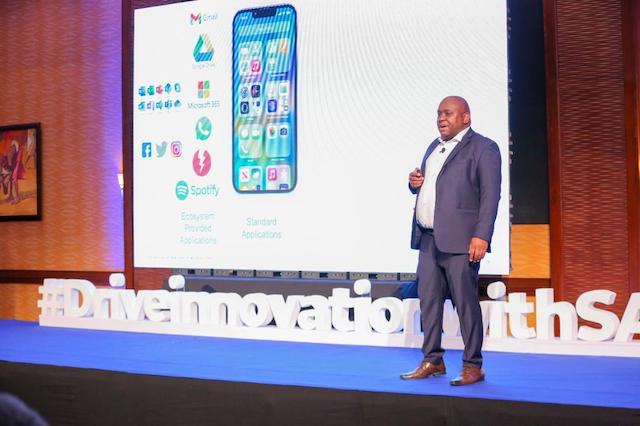 He likened owing a phone to SAP's vision to enable companies to be intelligent and sustainable enterprises to deliver business and societal outcomes, with SAP's modular ERP in the cloud that can manage finance, procurement, manufacturing, warehousing, asset management, research, supply chain and human resources combining 50 years of experience and meeting 80% of the enterprise needs of most companies. SAP's ERP can connect with apps from other technology vendors while they also have a store that has 2,000 applications where companies can find products that others have built and which they can use.
Aside from the savings that can be 20% to 30% over five years from having SAP run backups, operations, data centres, software, licenses, and maintenance, it frees up managers from doing things like generating reports and shifting to do other things that can add value to companies like strategic planning.
Finding Value in Data: Bhavesh Chavda, Senior Director of Business Technology (BTP) Platform, spoke of the importance of harnessing data; it's not just about migrating data from an unsafe on-site server room to the cloud, companies also must assess the quality and timeliness of their data for it to be useful and accessible and interrogated by management and by other applications. He said managers should be able to interrogate data, without knowing how to do any coding ("no-code, low-code"). The SAP BTP cleans up enterprise data and enables data-driven decisions, with continuous automation, low code extensions, and application testing. The BTP discovery centre is a free tier to try out for companies to connect, automate, and innovate and 12,000 customers around the world use BTP. He said that SAP's ERP can connect even with third-party apps while companies can sign on to the free business technology platform (BTP) and start building on new applications.
Rapid Feedback with SAP: Sherif Hamoudah, Head of Ecosystems & Channels for SAP Signavio spoke about SAP Signavio, a transformational system that enables companies to do what used to take consulting teams months to do. Signavio drills through 60 different processes for enterprise transformation within a day, spotting redundancies and inefficiencies and recommending fixes that have been adopted by other organizations for continuous improvement. He gave examples from the auto industry where semiconductor shortages are affecting car manufacturing, and in finance, where global firms are using Signavio for risk compliance.
Using Data to Drive Revenue: Rais David, Senior Customer Experience Solutions Specialist SAP spoke of the value of data and the importance of using current data to discern trends in revenue. Google is phasing out cookies by the end of 2023 and this is at a time when mobile e-commerce accounts for $511 billion or 7.5% of all sales. At the same time, $93 billion of online sales are abandoned each year because customers find there are too many steps to complete a purchase transaction. SAP systems manage 3 billion consumer data identities, while protecting their privacy, and process $570 billion making them the 7th largest entity in sales.
Fast Turnaround on Implementation: Lewi Maina, Consulting Services Manager at SAP emphasized the importance of businesses being quick to implement changes if they are to thrive in fast-changing environments. He said that once they took a path, they should aim for a quick turnaround time for projects as he said that some companies in Africa can now deploy Rise and other SAP projects in a few weeks. This is a takeaway from previous transformation projects at companies that took up to three years. He said that the five keys to a successful deployment were implementing cloud with an agile mindset, using preconfigured solutions, leveraging on modern integration and extension technologies, and ensuring transparent documentation on deviations.
At the drive event, testimony was shared from some clients of SAP including;
David Kariuki, ICT & Innovation Manager of the Kenya Electricity Transmission Company (KETRACO), the state agency that builds high voltage transmission lines across Kenya. In 2018 after the government asked entities to take procurement online and plug into their central procurement system, known as IFMIS, KETRACO chose SAP's Ariba as it sought to replace a manual procurement process where suppliers brought in envelopes and huge booklets of tender documents to be reviewed and scored in a time-consuming and laborious process. After a long process of digitization, standardizing procurement, tracking activities to reduce time loss, and overcoming supplier resistance, KETRACO, which was one of the first companies in East Africa to deploy SAP's Ariba is now a centre of benchmarking for e-procurement. They also have access to innovation, as SAP updates come over the cloud quarterly for them to adopt.
John Wachira the Group Manager of Information Technology at the Safal Group (popularly known for its Mabati Rolling Mills products) spoke about the complex deployment with SAP to consolidate the group's 36 operations that are in eight countries. They are in the second phase now to consolidate the end-to-end manufacturing, downstream operations, and commercial operations into one standard business environment on the cloud. They have gone live in six countries with two to go.