Nearly six years after the collapse of Chase Bank, the Capital Markets Authority has come down with harsh penalties on some of its former senior managers, directors and auditors. This is not over the collapse of the bank, but over misleading statements, failure to disclose material information or conflict of interest in the issue of a bond that the bank  floated in May 2015. Its first tranche raised Kshs 4.8 billion, 10 months before ether bank close. The bond's Information Memorandum (IM) indicated that the funds raised would be used for branch expansion, IT investments, and new products.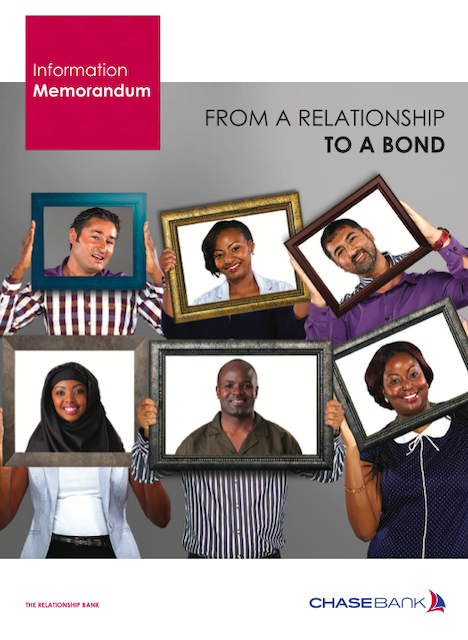 Penalties Levied:
Kshs 10 million against Deloitte, the reporting accountant for the bond note program and its partners will be reported to ICPAK.
Kshs 5 million fines each against Duncan Kabui, the former Group Managing Director,  Paul Njaga the former CEO and Ken Obimbo the former Group Finance Director. In addition, Kabui is debarred from being a director or partner in an issuer on the Kenyan capital markets for 10 years, while Obimbo is debarred similarly for 5 years.  
Kshs 2.5 million each against the former members of the Audit & Risk Committee – Laurent Demey, Muthoni Kuria and Rafiq Sharrif. The fine also was levied against Anthony Gross, who was Chairman of the Committee and who was ordered to attend corporate governance training.
Kshs 1 million, a smaller fine, against Richard Carter, a former director of Chase.  
 The Business Daily (BD) had reported on some findings that the CMA had made unearthed at Chase when it went reviewed its IT systems and which the CMA felt that Deloitte should have flagged such as a Kshs 14 billion hole at Chase, an IT override switch, and a Kshs 1 billion bonus paid to Chase's former Chairman Zafrullah Khan that was later shared with other directors and executives.  The fines are against 9 of 12 people targeted, and who appeared before an ad hoc committee put together by the CMA but 3 others went to court and halted the CMA probe proceedings against them – and the BD has identified them as Khan, former Finance GM Makarios Agumbi and former Corporate Assets Manager James Mwaura.
In another matter, a judge has ordered SBM Bank which took over the assets of Chase Bank to compensate AfrAsia Bank of Mauritius for a $7.5 million deposit that they had placed at Chase just before the bank was closed in April 2015. The judge said that due process was not followed in notifying depositors about the transfer of the bank assets from Chase to SBM and found that SBM, not the Kenya Deposit Insurance Corporation, is where AfrAsia should have pursued their claims. Will this open the door to other aggrieved depositors in collapsed banks like Chase, Dubai, and Imperial? – Read more in the Business Daily.  
Related:
Earlier updates in the Chase and Imperial bank cases
Past CMA actions on company directors on governance matters.