A guest post by @Wiselar   
Getting There: If flying from Nairobi, you have an option of either Kenya Airways (KQ) or Ethiopian Airlines. Kenya Airways operates both a late night (23:55) and a late morning (11:00) flight from Nairobi that costs about $600. For the Ethiopian flight, you will have to connect via Addis Ababa but it's cheaper at about $450.
I went on the night flight from Nairobi's JKIA. KQ operates an Embraer 175 on this route (though this changes a lot) and the flight time between Nairobi and Khartoum was about 2.5 hours.
On Arrival: On arrival in Khartoum (same time zone as Nairobi) at about 3 a.m., there was little activity at the airport other than our arriving flight.
Immigration forms are readily available and must be filled in duplicate. You must also watch out for the spacing on the form as they are arranged to cater for Arabic which goes from right to left. After filling the forms, processing at the immigration counters is pretty quick. This is followed by a security screening of carry-on luggage before being going to the baggage pickup area where with several baggage carousels around,  luggage was ready for pickup on time. Airport officials require you to have your baggage tag and they counter-check against the one on your checked-in baggage,  so keep it close.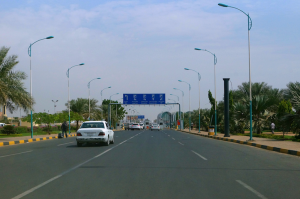 Khartoum Airport road
Sudan requires all visitors of other nationalities to register as aliens on entry to the country and this costs $40. This should ideally be done before you leave the airport but you can also do it the next day if you don't make it the first time. Most importantly, you will not be cleared to leave Sudan if you don't register as an alien. This can cause inconvenience you if you didn't know about it or and didn't spare enough time especially on the day of departure, when it can be even more difficult or confusing as most officials only speak Arabic.
Getting Around: I had arranged a pickup with the hotel but a taxi from the airport to my hotel (about 14 kilometers away) would have cost about $10. There was no traffic at this time of the day so these charges may vary. I noticed there were more private vehicles than public means around Khartoum. Still, taxis are readily available and they are not too costly, but it's always better to ask the hotel or a host to arrange the taxi for you and pre-negotiate the rates.
In Sudan, they drive on the right side of the world as does most of the Arab world. Also, it can get very hot, and people drive around with the air-conditioner on.
Rickshaws are also a very popular mode of transport in Sudan, and some owners do some extra 'pimping' work on them, such as shiny rims, to make them stand out.
Staying in Touch:  If you're a Safaricom customer like I am, roaming in Khartoum is via Airtel Sudan, Khartoum. Making calls and texting worked fine as expected but it was still expensive, and data charges while roaming are exorbitant so ensure you have your data turned off to avoid accidental connection. If you have to use your phone a lot, consider buying a local SIM. There are several local providers – Sudani, Airtel, MTN – but the biggest is Sudani. I didn't get to purchase a local SIM but I'm sure this should be easy.
Out & About: Sudanese people are generally friendly. Being a Muslim country, the weekend is on Friday and Saturday with the first day of the work week being on Sunday. The locals are pretty easy going and not too concerned about security. This is unlike Nairobi where you always have to be on the look out. Since it is very hot outside, there are very few people walking the streets.
There's also little or no police presence around town. This is unlike other African cities such as Abuja where there's quite a heavy military and police presence
Arabic is the most widely spoken language in Khartoum. Hotel staff and officials from the meeting I went to were able to do basic communication in English. A lot of signage is in both Arabic and English so it is easy to get around. All the newspapers and other publications I came across were in Arabic.
Being an Arabic country, food is eaten communally, from a central serving with smaller side dishes to accompany. Bread and meats are common. Pork is not allowed due to religion, and mutton (goat and sheep) is the most common type of meat.
As with many other African countries, politics takes center stage in conversations and to sum it up, the Sudanese people don't defend Al Bashir as much as Zimbabweans do Mugabe.
I had to change to the local currency of Sudanese Pounds (SDG) as most places outside hotels will not accept US Dollars. With a daily budget of $20 for meals and $40 for taxis per trip, you can make it around the city.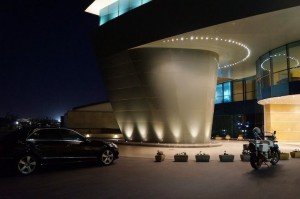 Outside Khartoum's Corinthia Hotel 
Where to Stay:  I stayed at one of the better hotels in Khartoum – Corinthia Hotel. A similar classed one would Al Salaam Rotana. A standard room at the Corinthia went for $210 for bed and breakfast before taxes.
Shopping & Sight-Seeing: There aren't too many shopping spots around Khartoum. I also didn't get time to go into their famous Afra Mall. You can however get places to buy curios (usually sold by South Sudanese nationals) but with very little variety.
Places for visitors to see include the meeting point of the Blue and White Nile rivers, which is quite a sight. I was lucky to stay at a hotel that overlooked that view. My hosts mentioned there are tourist boat rides on the expansive Nile, and I would have loved to go on one if I had more time.
Odd Points: Due to sanctions, US products have little presence here. My hosts told me they have to purchase computer software via third-parties in places like Dar es Salaam and Dubai. They also prefer to use open source software because of these restrictions which is also the reason credit cards are not accepted in Sudan.
Also, a peculiar habit I noticed was a lady alighting from the lift when a group of men got in and having to wait for the next one.