From focusing on money transfer in Kenya, where there has been a lot of development and competition especialy in the area of mobile money transfers, it now moves on to what about across Africa? From country to country?
Today in Nairobi Ecobank formally launched their Rapidtransfer which was rolled out in October 2009 is now available in Kenya. With Rapidtransfer one can send money to families members e.g. school fees, pay for goods, send cash to another account in another country, and have the funds available instantly in local currency
An illustration used was for how one can now transfer money from Mombasa Kenya to Dakar Senegal – and with Rapidtransfer, an individual can send a maximum of $10,000 per day (~Kshs 800,000)between the two points on opposite sides of the continent instantly! It is also open to non-account holders and can be used for intra-country transfers as well. The product works only within the Ecobank network, which now covers about 30 countries. They get around the foreign currency restrictions in some countries by making and receiving payments in local currency (no forex exposure to customer) and all at a competitive rate compared to Western Union or Moneygram.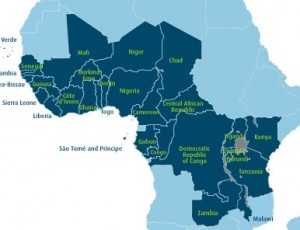 Rapidtransfer was was launched by Kenya's Central Bank Governor who chided the media for wanting too much from the product already. On whether Rapidtransfer will be on mobile phone, he gave tales about trying to buy a car in 1992 when money would take a week to be transferred from a Nairobi account to a Mombasa account (it was then faster to send money hidden in an Akamba Bus package) and this was also at a time when branches were not linked and one could only transact at a particular branch.
Rapidtransfer is unique in that many because banks don't talk to each other across border e.g. a bank in Kenya and a bank in Uganda may share the same parent or name but customers who cross borders are not able to transact (except using visa). However, Ecobank customers are also able to use their ATM bank card in all the 30 countries they are present to fully transact across borders.