This week, Kenya Airways and the Kenya Airports Authority – (KAA) published a joint notice about discussions towards collaboration in the management of Nairobi's Jomo Kenyatta International Airport (JKIA).
This is not new or unique. Last year the Ethiopia government merged it's airline, the largest airline in Africa, making it the centerpiece of a hub-strategy for Addis that incorporates the airport, passengers, logistics, training, catering and tourism). In Rwanda there is also a similar management arrangement, another soon at Tanzania, while the latest results from Emirates, in its 30th year of profit announced last month, show 14% of their revenue was from cargo and 15% was from D-nata which does ground handling and logistics for other airlines around the world including from extensive investments in Europe, Asia, and North America.
Nairobi is a very competitive market for @KenyaAirways and there are five times more carriers flying to Nairobi compared to Addis – CEO Mikosz #KQResults

— Bankelele (@bankelele) March 21, 2018
At a previous shareholders meeting (AGM), KQ Chairman Michael Joseph spoke of closer ties with the government, and the need for the airline to get in involved in route approval, and protecting Nairobi as its hub. He said that whenever a foreign leader visited or the President of Kenya went overseas, a "win" from such trips was the granting of more rights to foreign airlines to fly into Kenya, which was to the detriment to KQ, in which the government had a significant investment.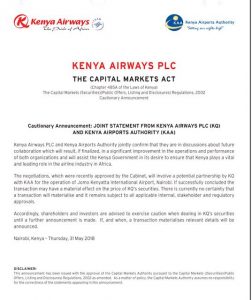 According to its latest results (June 2016 from the Auditor General of Kenya), KAA which constructs, operates and maintains aerodromes around Kenya (including 16 airports)  had Kshs 13.5 billion revenue and a Kshs 2.6 billion profit (in the previous year, this was Kshs 4.4 billion).
The revenue includes Kshs 6.7 B (billion) in passenger service charges, Kshs 1.7B from concessions and Kshs 3 B from landing and parking fees – half of which are probably paid for by Kenya Airways. JKIA handled 100,000 aircraft takeoffs/landings and processed 6.7 million passengers (out of the 9.6 million KAA handled in total) and 235 million tons of cargo.
But KAA also comes with it a lot of politics such as tussles over the composition of its board and top management and project disputes such as the Greenfield terminal at JKIA, and with private developers such as World Duty Free at JKIA and other land disputes at various airports around the country.
The newspaper report (Business Daily) also mentions that the proposed partnership with will also see Kenya Airways exempted from payments of some Value Added Tax (VAT) and the Railway Development Levy, a 1.5% tax on all imports into Kenya that is meant to finance ongoing development of the Standard Gauge Railway (SGR). 
EDIT Sept 3, 2019: Kenya Airways formally withdrew the Privately Initiated Investment Proposal (PIIP) following a quarterly meeting of its board of directors on August 27 2019.