The value of African art can grow tremendously over the next decade with investment and support from buyers both within Africa, and others who live beyond the continent, as well as from African art schools, governments, museums, galleries, art professionals and banks to stimulate and support more interest in African art.
These are some of the findings from the Art & Finance Report 2017 that was unveiled at Deloitte's 10th Art and Finance conference at the Italian Stock Exchange in Milan this week and which estimated that the value of art owned by Africans collectors was $12.7 billion in 2016 and that it  could grow to $20 billion by 2026. This still accounts for less than 1% of the global art market currently estimated at $1.6 trillion with an annual turnover of $50 billion.
Some key findings of the report which looked at the global art markets include:
The art market should be self-regulated and there is great support for art to be part of wealth management offerings to customers at more private banks.
Banks need more specialists to properly value and manage art markets.
Art can be used as collateral, enabling art collectors and galleries to realize liquidity without having to make unfavorable sales to meet short-term cash-flow needs. See this on how to borrow against art.
Art as an investment class poses risks that are no different from others that banks manage and have to guard against, including vices like price manipulation, insider trading, money laundering and terror financing.
The top categories in the global art market are  "post-war & contemporary art", followed by "modern & impressionist art", "Chinese & Asian art" and " jewels & watches".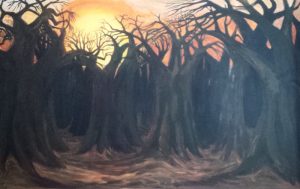 Some excerpts from the report on the African art market include:
International dealers and auction houses like Bonhams and Sotheby's are seeing a gradual shift in the African contemporary art buyer base from mainly African art collectors to a more international and diverse group of art collectors.
London experienced a 12.5%  rise in African art auction sales between 2015 and 2016, with Bonhams controlling a 65% market share.
Sotheby's London joined the African art auction trend in 2017 with its first auction focused purely on African contemporary art. It achieved total sales of over $3.6 million and 79 of the 116 lots were sold.
In 2017, record-breaking hammer prices recorded at auction for contemporary art were achieved by Nigerian artist Njideka Akunyili Crosby, whose work sold for less than $100,000 at auction in 2016. However, less than a year later, the artist's piece "Drown" sold for a record-breaking US$1.1 million at a Sotheby's auction and a few months after that, her 2012 painting "The Beautiful Ones" sold for US$3.1 million at a Christie's London auction.
There is currently an inter-section of art, wealth, and technology with the possibility that bitcoin / block-chain can be used to assist banks and financiers with tools to help with transparency authentication, copyrights and ownership of art objects and there are already platforms such as Blockai, Ascribe.io, Chainmark, and smArtchain etc. in use.
The greatest demand for African art is currently from high net worth individuals in Nigeria and South Africa, which are the two largest economies in Africa. The report also notes that there is increasing demand from corporations such as the Nigeria Stock Exchange
Elsewhere In Kenya, Stanbic was working on investor management portfolio offerings that include wine and African art, while Nigeria has Access Bank in Nigeria. There are also other innovations coming up in African art and finance from leading banks and galleries in Kenya, South Africa and Europe.