The Central Bank of Kenya (CBK) has levied bank fines against five institutions over transactions relating to their handling of payments and movement of funds sent from the scandal-plagued National Youth Service (NYS).
Press release: Investigations of Banks Related to National Youth Service Transactions. pic.twitter.com/CvH5dKLca4

— Central Bank of Kenya (@CBKKenya) September 12, 2018
The banks are Diamond Trust which handled Kshs 162 million, and was fined Kshs 56 million, Co-operative Bank which handled 263 million (and was fined 20 million), KCB which handled Kshs 639 million (fined 149.5 million), Equity moves Kshs 886 million (89.5 million fine) and Standard Chartered which handled Kshs 1.63 billion from the NYS, and which was fined Kshs 77.5 million.
The CBK statement read that the bank fines followed investigations into failures at the banks including; not reporting large cash transactions, not doing due diligence on customers, lack of support documents for large transactions and lapses in reporting suspicious financial transactions to the Financial Reporting Centre (FRC).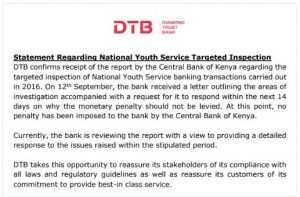 Notably missing was Family Bank that featured heavily in a prominent series of transactions of funds that originated from procurements at the NYS. It has been previously sanctioned and branch and senior staff are being prosecuted.
All the banks which handled NYS funds had been named earlier and the CBK statement added that this was not the end, with an additional group of banks set to be identified and investigated.
EDIT:  In a filing to the London Stock Exchange, Standard Chartered disclosed that the bank had, in December 2019, entered a settlement with Kenya's Director of Public Prosecutions (DPP) to defer prosecution of the bank and any people affiliated with it, and which would see the bank pay a penalty of Kshs 100 million ($964,000).