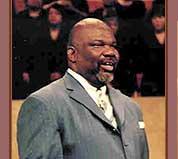 When Bishop Thomas Dexter (T.D.) Jakes first flew into Nairobi in January, he was largely unknown in Kenya and received a small, dignified reception from his religious and business hosts.
Since then we have come to learn more about him – from his links with President Bush, business acumen, charity work in Africa, large following, and title of "America's Best Preacher" that Time magazine bestowed on him in September 2001.
For his visit this week, he was deemed worthy of a visit to President Kibaki and was subjected to Kenya's notorious VIP protocol arrangements including frantic security arrangements, a missing host and traffic jams. Bishop Jakes will lead worship services at Nairobi's Uhuru Park on October 1 and 2 from 2pm to 5pm.