A review of the Madaraka Express SGR service between Nairobi and Mombasa, Kenya using the Business Traveller format of train reviews.
Background: Kenya launched the Madaraka Express, a new passenger service train service when the Standard Gauge Railways in May 2017 that replaced the 'old' Kenya Railways train service between Nairobi and Mombasa and which was discontinued just a few weeks before the launch. China Road and Bridge Corporation built the new standard gauge railways (SGR) and Africa Star Railway Operation runs the train service for Kenya Railways.
Booking: You buy all tickets online, and you have to choose – first (costs Kshs 3,000) or economy (Kshs 1,000). There is no seat selection or seat map. You then pay via M-Pesa and get an SMS with the seat selection and ticket number. The ticket price is a flat rate, with no difference in prices for weekends, or midweek. The booking site also shows the number of available seats and you can book for several people, but there are some rules about large group bookings. 
Getting There: Nairobi's SGR station is located about 8 kilometres from the Jomo Kenyatta International Airport and 15 kilometres from downtown Nairobi while the one at Miritini station that serves Mombasa is a corresponding distance from the airport there and centre of the island. You can get to either station by using a taxi service like Uber or Little Cabs.
Even though you are going to hot Mombasa, dress warmly for the SGR ride. Don't get on board in T-shirt and beach shorts as the train is kept at a cool air-conditioned temperature for the duration of the ride and the windows don't open.
At the SGR station, you go through a few security checks – sniffer dog, bag x-ray etc. There are different rules that are not clear and some people are allowed to bring food onboard, but other items like visible alcohol bottles and cigarette lighters are confiscated from passengers.
You then go and print your ticket stub from a vending machine, which you have to show to enter the station. You enter the number that was sent to your phone via SMS and you can, for good measure, also print one for the return leg.
Boarding: At Nairobi, there is a lounge for first-class passengers that is separated by a screen from the economy ones. First class passengers board first from their lounge, and parents with children are given boarding priority. You walk across a bridge from the lounge and down to the train.  There are escalators at both Nairobi and Mombasa stations and some lifts, but they can get crowded.
You find, your coach and there's another ticket check at door. The train has about eleven economy coaches, and two first-class ones, according to the announcer, with numbers one and two at the back, next to the dining car.
Seat: Once on board, you have to sometime be firm on the seat you paid for as some people arrive and want to sit on a different seat in the first-class cabin that is in a 2-2 layout. Window seats have a socket and you want to sit next one where you can plug your gadgets in to charge. I got the impression some people buy two seats so they can stretch out in the extra space and nap without being bothered by a seat companion who may be a noisy, messy eater.
There is enough space in the overhead bins, and large suitcases are placed at the end of the carriage near, or under, the sink. It would be nice if there were some proper luggage racks, but there is ample space.
The tray table, which pulls out from the seat in front, is wide enough to rest a laptop computer on. But it has no slots for cups, so if you are reading or working on a laptop, it is available to hold your cup. The train sways gently, but it is more likely you will knock over the cup or someone passing may bump it by accident.
Journey: The train pulls out of the station on time at 2:35 P.M. It accelerates slowly on through past the many cement factories in Athi River town, the African Heritage House, and other familiar sights. It doesn't really pick up speed, in this area with slight curves, until it starts descends the plains, and the rail straightens. Most of the journey is done at speeds of about 110 Km/h (70 mph) and the train is very deceptive in its speed, which is displayed on a small screen in the coaches. You never get a sense of the speed until you pass a car on the highway or see a helicopter slowly pass overhead and you realize just how fast the train really is compared to these other vehicles.
The entire railway is double fenced, zoning off the SGR from the communities that it passes through on the 400-kilometre journey. The afternoon train is a non-stop one. Unlike the old train which would slow to stop in small towns and in which passengers tourists would stick their heads out of windows, watching the passing countryside or to count the number of coaches of the train as it turned, this new rail has few curves and the train hardly bends. There are no roads to cross, and instead, the train is elevated far above the ground as cars pass underneath. School kids, who used to stop and wave at travellers on the old train, do not bother to stop playing football to even glance at this fast-moving one.
Looking outside from your seat, you might spot some elephants, giraffes, buffalo, monkeys and other wildlife in the open plain, and later when an announcement is made about the train passing through Tsavo National Park. Occasionally pass another train, but mostly you pass old abandoned stations that used to be landmark stops on the old train,
Service:  In first-class, a drink cart was rolled down the aisle with a snack, and free serving of coffee or tea is served, but the service is rather slow and clumsy. Later they served drinks, for sale, which were rolled down on an old airline-style cart, with a selection of beers, wine, soft drinks and snacks, but the cold drinks are not really cold. Even warm ones can run out and you may have to switch what you are drinking.
It is better to go straight to the dining car where you can have more cold drinks and snacks. The train ride is not too long, so you won't be eating large meals like the elaborate full dinner and breakfast meals that the old train used to serve in first-class. The same beer that was Kshs 250 in the VIP at the station is now 350 here. Also, the Mombasa station also has a first-class lounge upstairs but there is no restaurant there, yet.
There is no Wi-Fi or screens, but you get good service on Safaricom internet service for most of the way. Some passengers had iPads which they used to entertain children they were travelling with.
Arrival: Accessing the station at both ends can be stressful At Mombasa having arrived at about 7:15 P.M. it took about two hours to get to our destination by historic Fort Jesus. The new highway, that is still under construction, takes about fifteen minutes to reach the junction to Mombasa airport. Then it took us one and a half hours to negotiate the traffic that had overlapped and got stuck on the dusty Makupa Causeway, with matatus, tuk-tuk's and other vehicles going off-road and meandering between long-distance trucks. Some vehicles had they engines off and truck brakes had a burning smell. The cause of the jam was a lorry that had gone off the road just as the causeway enters the island. The return a few days later took about a half-hour from town. Regardless of if you take the SGR, or fly into Mombasa's main airport, you are stuck on the same highway that is under repair for the next few weeks.
Verdict: The 66 people in the first class train cabin are equal to the number on a typical bus on the Nairobi-Mombasa highway, while each economy coach (there were eleven) has almost double that number of passengers. Also, the 50 wagons on an SGR goods train of which you pass one or two during the journey are equal to 50 fewer trucks off the Nairobi-Mombasa. See also Owaahh's "The Man Who Sold A Country" for more on the impact of this new railway.
Good points: The time-keeping, the on-time departures and arrivals. Also, the new SGR service crew make many announcements, about making good use of a shared public facility. When KFC came to Kenya and later Subway and other fast food-joints followed, they introduced the idea that patrons should clean up after themselves and dispose of their assorted papers, cups and leftover food in large bins provided. On the SGR they keep broadcasting announcements throughout the trip reminding passengers about cleaning up their space, not littering, not sticking gum under the tables, etc. They also ask people travelling in groups to be considerate of others in terms of their conversations and music. But other passengers played music on their phones, without using headphone, and there was a cacophony that competed with music blaring from the train's overhead speakers.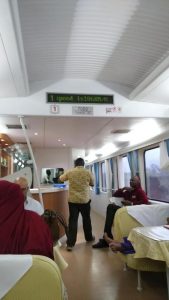 Some groups ignored this and a few people don't use headphones and you often have competing sounds in the cabin, including songs on the train PA in-between announcements. While others heeded the advice and took their loud conversations to the dining car where they could sit facing each other and discuss their trips and business plans over plenty of alcohol. There is also some camaraderie in first class, and people share tables as they enjoy drinks and watch the rapidly passing scenery.
In Nairobi, Kenya Railways also runs a commuter service from the old railway station in downtown Nairobi to the SGR station. They time it to shuttle passengers who are connecting on the SGR Nairobi. This costs Kshs 50, a fair deal, compared to the cost of using a taxi which is at least ten times more. The commuter trains makes two stops at Imara Daima and Makadara.
Bad points: The odd toilet rule about not throwing anything, even tissue, down the toilet does not make sense. Their instructions are to dispose of toilet paper in a bin on the floor?? Yet the toilet seems like the same standard vacuum flush that planes have. BTW, the old train used to flush straight down and fertilise the side of the tracks.
FACT FILE:
JOURNEY TIME 4 hours, 35 minutes (Nairobi to Mombasa).
SEAT CONFIGURATION 2-2. Seats can rotate backwards but no one tried to turn them around. People went to the dining car for face to face meetings.

PRICE:  Advance first class fares from Nairobi to Mombasa are Kshs 3,000 (about £23 / $30) for a one-way booking, which you make online and pay for via mobile money (

M-Pesa)

. You must enter the name and ID/passport number of each traveller. 

CONTACT info@krc.co.ke