A few weeks after retiring a bond issue e early, Family Bank has launched a new medium-term notes (MTN) program.
Family Bank has got approval from the Capital Markets Authority (CMA) to borrow up to Kshs 8 billion over the next five years to go towards growing its capital base, launch new products, and support lending mainly to MSME's (micro, small, medium enterprises) . The first tranche will be Kshs 4 billion.
This announcement is a welcome sign for the Nairobi corporate bond scene that has been shrinking for the last few years. Last week East African Breweries (EABL) announced it was retiring its bond program, and earlier, in April 2021, Family Bank had paid back Kshs 2 billion to its noteholders – concluding a Kshs 10 billion borrowing multi-currency program of fixed and floating rate bonds that it had launched in 2015.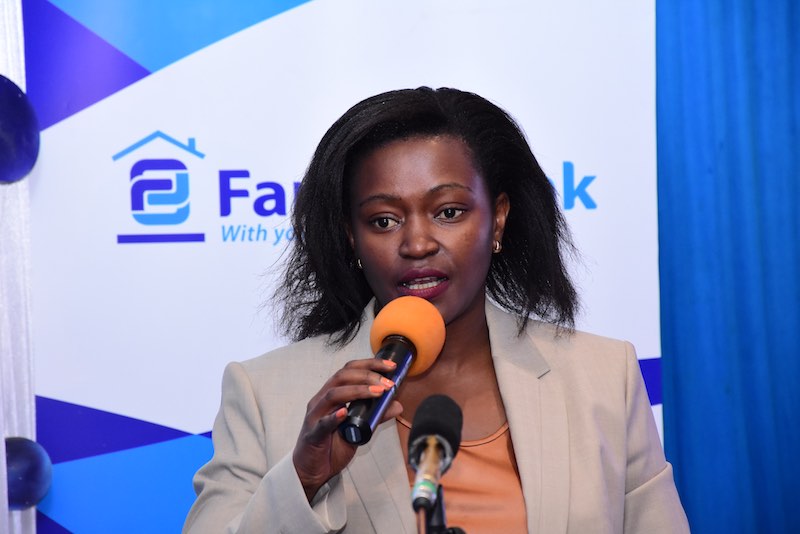 CEO Rebecca Mbithi said she was confident of the bank's upward trajectory as Family is the fourth largest bank in the country by branch network, with 92 branches. The bank has recorded net compounded growth of profit-after-tax of 21% in the last five years, with assets growing annually by 7% and deposits by 14%. In the first quarter of 2021, it had a 71% increase compared to its earnings last year.
Transaction advisors for the MTN program are NCBA Investment Bank and Genghis Capital. Other partners are PricewaterhouseCoopers (reporting accountants), MTC (note trustees), Mboya Wangong'u & Waiyaki (legal) and Tim-Sky Media (PR).
EDIT June 8: Family Bank Bond details are out.
The first tranche aims to raise Kshs 3 billion (about $27.8 million) in Kenya shillings or other currencies, with a 1 billion green-shoe option.
Maturity is 5.5 years.
The rate is fixed at 13% p.a. or floating (at the T-bill ±2.5%).
Funds may be used to expand branches, for on-lending, ICT investments, capital strengthening or regional markets entry.
Bond opens on 8 June, closes on 22 June,
The minimum investment amount is Kshs 100,000 (about $927)
Interest payments will be twice a year.
Bonds will be listed at the NSE from June 2021 to December 2026.
EDIT: June 24: The first tranche of the notes was fully subscribed and attracted bids for Kshs 4.41 billion. Family Bank was then granted approval by the CMA to exercise a green shoe option for Kshs 1 billion above Kshs 3 billion tranche size.
The entire first note tranche will pay investors at a fixed rate of 13%, paid semi-annually and will be listed on the Nairobi Securities Exchange on June 30, 2021.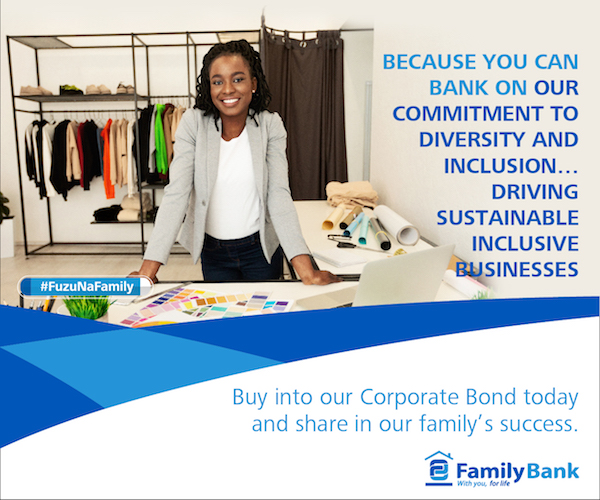 EDIT June 30: Trading of the first tranche of Family Bank bonds at the Nairobi Securities Exchange (NSE) started this morning.
Bank Chairman, Wilfred Kiboro reiterated that Family plans to list its shares on the NSE and that activities like the successful bond listing, which raised Kshs 4.42 billion from investors, will increase the attractiveness of the bank.