Britam and Centum have had a busy few weeks.
BritAmEA (i) Had an oversubscribed bond at the NSE that saw them raise Kshs 6 billion (ii) Completed the acquisition of 99% Real Insurance – giving them access to Mozambique, Malawi and Tanzania (the Competition Authority approved this deal with a caveat that they retain at least 85 of the 105 employees of Real) (iii) Established an office in Rwanda (IV) Britam will also pay about Kshs 2 billion for Equity's 25% in Housing Finance.
Centum (i) Are proposing to acquire an additional 66% shares in K-Rep Bank (ii) Are seeking shareholder approval to create a Mauritius company, set up Kings Beverage, Bakki, Shefa subsidiaries, and also ratify the acquisition of 73% of Genesis & 30% of Broll (real estate) (iii) Ceded 42% of Two Rivers venture to investors at Kshs 6 billion, (iv) Are still in the running for Rea Vipingo offering Kshs 75 per share, over the Rea bid of Kshs 70 per share to other shareholders (v) Key Centum shareholder, Chris Kirubi said he wants to be a dollar billionaire. 
Other recent deals include
Kenya Airways to give Tanzania's Precision Air a $10 million bailout. 
Waiting to see who will officially be FastJet's partner will be for their renewed push to enter the Kenyan aviation market.
Hong Kong-listed Frontier Services Group completed the acquisition of 49% of Phoenix Aviation for $14 million (Kshs.1.2 billion).
Autos
Al Futtaim Auto to compulsorily acquire the remaining 8.4% of

CMC

shares from minority shareholders
Banking & Finance
Actis to acquire Compuscan, the largest independent credit bureau in Africa & run it as Credit Service Holdings with Michael Jordaan as chair.
Diamond Trust has an ongoing rights issue to raise Kshs 3.2B ($42 million) from shareholders at Kshs 165 per share.
Ecobank got investment bank approval in Kenya following their buyout of Iroko buyout and will target oil & gas, infrastructure & commodity deals. 
KCB is now a holding company, and is said to be interested in buying an insurance entity.
(edit) Kenyan Women Holdings will sell 25% of the shareholding of Kenya Women's Finance Trust to their 600,000 members between September and October 2014. 
NIC Bank to have a corporate bond and rights issue during 2014

Atlas Mara to buy 77% of Development Bank of Rwanda 

National Bank

shareholders to vote on if money from their upcoming rights issue can go to pay off preference shareholders

Western Kenya politicians have supported the creation of a new Mulembe Investment MFI bank, that will be part-funded by counties to serve 5 million people. 
Building & Cement
Holcim is set to acquire effective control of Kenya's Bamburi Cement as part of the planned merger between Holcim and Lafarge. "The parties do not wish to see any change to the status of Bamburi as one of Kenya's leading industrial companies listed on the NSE."
Food & Beverage 
Danone bought 40%of Kenya's dairy processing company Brookside which had revenue of Kshs15.4 billion (€130 million) in 2013. It was previously 90% owned by the Kenyatta family with Abraaj owning 10%. Brookside collects milk from 140,000 farmers and has 3,000 employees.
Distell of Stellenbosch South Africa got privatization approval from the Kenya government to acquire of 26% of KWA Holdings E.A. that was previously owned by ICDC  for Kshs 860 million (about $10 million)

Kenya Wines will also their Kshs126 millionUchumi Supermarket stake.

See Centum (above)
South African food company, Tiger Brands has dropped plans to acquire Kenya firms Rafiki Millers for $25m.
Health & Beauty
Procter & Gamble merged India, the Middle East and Africa into one IMEA region to improve execution.
The Kenya Competition Authority approved the acquisition of 100% of Fairview Hotel by City Lodge Hotels.
Kempinski Hotels, Europe's oldest luxury hotel group has officially taken over Hôtel Des Milles Collines in Rwanda.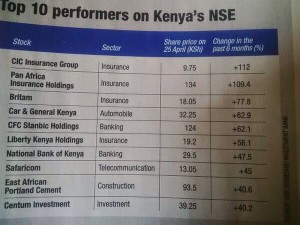 Insurance 
See Britam above

CIC had dropped plans for a rights issue in favour of a corporate bond
Liberty Kenya proposed to pay a Kshs 1/= scrip dividend, but shareholders can opt for cash.  
UAP had an oversubscribed bond that raised Kshs 3.1 billion against a target of 2B. 
Africa Report magazine listed insurance companies as the top performers at the NSE in 2014 (see table).
Kenyan firms Hamilton Harrison & Matthews (HHM) and Oraro & Company have announced they are to merge

 pending regulatory approvals.
Media & Communications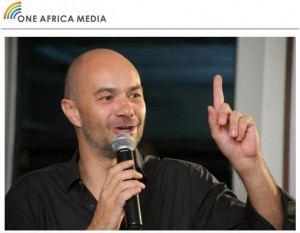 #RIPCareyEaton
The $35 billion Publicis-Omnicom merger fell apart. The deal to combine the world's largest advertising company was foiled by myriad difficulties, including who would run the new firm. The collapse of the deal is a win for WPP CEO Martin Sorrell, who campaigned aggressively against the merger of two of his biggest rivals.

A few months after his big deal with One Africa Media consolidating operations in Kenya, Uganda and South Africa, co-founder, Carey Eaton, was killed in Nairobi. See some tributes to Carey Eaton. The Economist also ranked the largest internet companies in Africa and One Africa Media topped this at $80 million, followed by Mobile Planet ($15 million) and Kopo Kopo ($10 million) 

passed away – some tributes 

Scangroup agreed to acquire a majority stake in a pan-African firm – the Experiential Marketing Group (EXP) 
The  Safaricom and Airtel buy out of (and split of) Yu appears to have stalled. 
In the last year, Tullow Oil and Base Resources have paid the Kenya government $22 million and $16 million respectively. 

Tullow received a  judgment in its favour over capital gains tax payments that Tullow had made onHeritage's behalf to the Uganda Revenue Authority. In August 2013, Tullow received $345.8 million from Heritage in satisfaction of this High Court judgment.
Swala Oil & Gas completed their Tanzania IPO which was oversubscribed and will now proceed to list on the Dar es Salaam Stock Exchange ("DSE"). The placement of 13.3 million shares with 1,869 new and existing shareholders also allowed Swala to keep excess funds from Dar IPO.
Transportation & Utilities
Transcentury sold their 34% in Rift Valley Railways to Citadel Capital for $43.7M recovering their cash, but below fair value..they cited the 

delayed turnaround of the railway consortium as a reason for the sale.

Actis confirmed the sale of its stake in Umeme for $85.5 million to 20 institutional investors including Investec and Uganda's NSSF

Kone Kenya acquired the business of Marryat & Scott, an elevator installation company.
The Australian Navy seized heroin worth $296 million from a wooden boat off  the Kenyan coast.

The Karen Blixen house was put up for sale for $9.5 million 
Kenya's NSSF had $600 million (Kshs 51 billion) in quoted securities as at June 2013 topped by Bamburi EABL and KCB.
The Competition Authority fined Tusker Mattresses (Tuskys) and Ukwala supermarkets Kshs 5.3 million while allowing them to continue pursuing a supermarket consolidation deal.