In June 2020, Safaricom launched a new app for business owners that is a serious tool that enables them to do true real-time cash management, accounting and business banking on their mobile phones.
Perfectly timed during the Coronavirus when businesses are moving shopping online, and paying more with M-Pesa over cash, the new Lipa Na M-PESA Business App allows business people to set up and manage multiple tills at different locations, keep track of cash and integrate payments from different tills.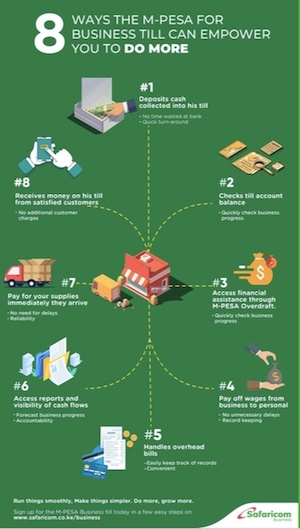 By using the app, business owners get immediate updates on sales and receipts, giving them visibility of how different stores are performing and should reduce pilferage and leakage from cash sales handled by employees at different locations.
Payments collected through mobile money can be used to settle supplier bills, pay daily casual salaries or be sent to the bank, all using the app. A big plus is that businesses can obtain instants overdrafts to complete crucial payments, and this follows in the runaway success of "Fuliza".
Crucially the Lipa Na M-PESA Business App creates a digital data trail, marries accounting and banking as they can now export their periodic statements to other systems like Excel or an accounting system for easier and faster reconciliation. This is expected to ease the record-keeping and payment efficiency of business owners, 170,000 of who currently use Lipa Na Mpesa and who can receive payment from 24 million M-PESA users across the country.
Business owners can apply online for the new M-PESA business till numbers or to add to their existing ones. The requirements asked for from different entities, from sole proprietors to partnerships, companies and churches, are listed on the site. Decisions on applications will be made within 24 hours of providing all documentation, with new till numbers provided to successful applicants. Other status decisions such as pending, or rejected, with reasons given, will also be in the same period.
The Lipa Na M-PESA Business App is now available in the Google Android store and on USSD (*234#), while the iOS version will be out later.