Coca-Cola today launched "Coke plus Coffee", a coffee-flavoured beverage that is one of five new products that the company is introducing in Kenya to match new and changing consumer tastes and spending habits.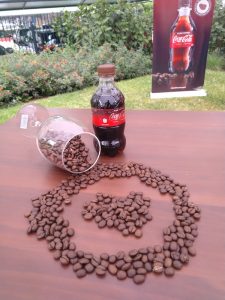 Also unveiled was "Minute Maid Nutridefenses" in five different fruit flavours, "Sprite" and "Fanta" without sugar, "Fuze" tea bags, and "Powerade", a rehydration drink for sports users that will feature at the Olympic Games.
At the launch, Company representatives said that the developments were guided by their research to come up with new products and to deliver choice and convenience to customers by providing quality products – dubbed  "the right refreshment, in the right package, at the right price."
Aside from the new beverages for coffee lovers, juice lovers and sports people, Coca-Cola is also moving to reduce its plastic footprint by shifting the distribution of Dasani water to glass, returnable bottles that are sold at more affordable prices. This is alongside a wider push to accelerate the collection and recycling of plastic bottles and reduce waste pollution in East and Southern Africa.
The transaction price from the sale of our shareholding in Almasi Beverages and Nairobi Bottlers is KES 19.5B #CentumFY2019 pic.twitter.com/ipiwzoMsvx

— Centum Investment (@CentumPLC) June 12, 2019
Aside from this Coca-Cola is in the process of completing a deal with Centum Investments to take control of beverage bottling companies in Eldoret and Nyeri (through Almasi) as well as Nairobi Bottlers.