The African Development Bank, the leading development finance institution on the continent,  has announced that it will hold its 2019 series of annual meetings from 11 to 14 June in Malabo.
Hosted by the Government of Equatorial Guinea, the meetings are expected to feature over 3,000 participants including finance ministers, bankers and business leaders. The country's preparedness to host the event was confirmed at a signing ceremony during a consultative meeting between representatives of the Bank and its African shareholders at the Bank's headquarters city of Abidjan which was attended by the Finance Minister of Equatorial Guinea.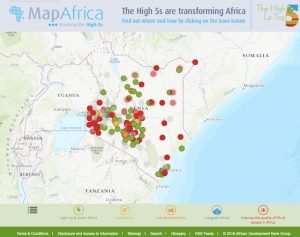 The annual meetings which this year will have the theme of "Regional Integration" mark a return to Africa after a two-year break.
They were held in May 2015, in Abidjan, which also marked the 50th anniversary of the bank and the return to its statutory headquarters city in Côte d'Ivoire, after a temporary relocation to Tunis for 11 years.
The 2016 meetings were held in Lusaka Zambia,  where the Bank, as an agent of change, introduced their ' High 5s'  of five development priorities which were to "Light up and power Africa", "Feed Africa", "Industrialise Africa", "Integrate Africa", and "Improve the quality of life of the people of Africa."  
The 2017 meetings were held in Ahmedabad, India, with the 2018 annual meetings at Busan in the Republic of Korea, and they had themes in each of the years, of "Transforming Agriculture for Wealth Creation in Africa," and "Accelerating Africa's Industrialisation," respectively.
The regional integration theme for the 2019 meetings is derived from one of the pillars of the High 5s and focus on the opportunities of Africa with one billion people and a combined GDP of $3.4 trillion to trade with each other.