This week FIFA announced its decision that the 2026 World Cup would be held in the Americas, and jointly hosted by the United States, Canada, and Mexico, who defeated a competing bid from Morocco in North Africa.
The 2026 tournament will be an expanded tournament, that will feature 48 countries and a total of 80 matches, a significant increase from the 2018 tournament which also began in Russia this week and which features 32 teams and 64 matches scheduled. The 2026 matches in the  Americas will be split with 10 in Canada, 10 in Mexico, and 60 in the USA, including every game from the quarter-finals onwards.
FIFA also published the report of their analysis of the bids leading to the decision on the World Cup award. FIFA reports that costs of hosting the event will be higher than the current one in Russia because of the increased number of matches, and that they expect over $2 billion revenue from the 2026 tournament which will be supported by strong hospitality sales and an expanded global TV audience. FIFA World Cups have four main revenue streams – media, marketing, ticketing, and hospitality.
The bids were judged on three measures of compliance assessment (submission of all documents such as agreements with host cities, stadiums, training sites, and airports), risk assessment (cost and revenue projection, and human rights impacts) and a technical evaluation  of infrastructural and commercial components (stadiums team & referee facilities,  accommodation, medical care, and transport).  FIFA also considered all the host city populations, altitude, time zones, and temperature and humidity in July when the tournament would be played.  Also, FIFA notes that only small proportion of soccer fans have an opportunity to attend a World Cup in person, with the vast majority following on TV – so an important measure is now for host countries to demonstrate capabilities and plans for first-class information technology, telecommunications, and an international broadcast center.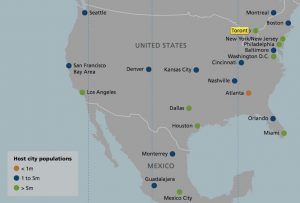 USA: 23 cities were included in the original US bid, and 16 will be used. The US benefited from having existing infrastructure, with all the stadiums proposed by the Canadian Soccer Association, Mexican Football Association, and the United States Soccer Federation already fully built and ready. The FIFA evaluation found that transport systems were excellent, but dependent on air transport, except on the U.S. East Coast where road and rail were also realistic options. Overall, transport was judged "fair to good" in 11 cities, but the infrastructure for transporting large crowds to and from stadiums was insufficient in 5 others. In the US bid, 11 of the proposed 23 stadiums have artificial turf, but they had committed to having natural grass for the tournament. All the cities  have enough accommodation for both organizers and players, but are limited in "in Los Angeles, Washington D.C. and Mexico City due to a relative shortage of top-tier hotels in the vicinity of those cities' stadiums." FIFA estimates it would cost them $1.92 billion to host the tournament in the US. 
Morocco: The bid to host the 2026 tournament was tied to an ongoing government plan to use sports to drive national unity and cohesion and would play a key role in accelerating the country's economic development and that this would extend to non-sports infrastructure.  All guarantees and hosting agreements were submitted and compliance and in accordance with the FIFA template and the Morocco government gave undertakings that all 12 cities would have stadium infrastructure and sufficient accommodation for the towns. They also guaranteed that 13,838 rooms in university residences would be converted to 3 and 4-star hotels by investing $20,000 to $20,000 per room for conversion. Accommodation would also extend to cruise ships berthed in Morocco.
Morocco proposed 12 host cities with two stadiums each in Marrakesh and Casablanca. Casablanca would serve as the main airport, with Marrakesh as the second, and there would be ten airports available for international access with and connectivity Morocco's proximity to Europe and the country's ability to handle huge numbers of tourists during the peak summer season shows its capability to cope – such as the Tangier Med Port which has traffic levels of 3 million visitors in 2017.  There was also high-speed rail transport between Tangier area with Rabat, Casablanca, and Marrakesh, there are 18 trains per day between Casablanca and Fez and they also proposed a new rail line between Marrakesh and Agadir that would be completed by 2025.
But FIFA judged that of the 14 stadiums proposed by the Morocco 2026 bid, nine are still to be built. Also for Morocco only 2 (Agadir and Grand Stade de Marrakech) of the 14 stadiums have accommodation that meets or exceed the minimum requirements for general accommodation, and FIFA's formula is 5, 4, and 3-star hotels located within a two-hour drive to the venues. They also knock off 20% of the top capacity number to get a realistic measure of the rooms
FIFA also found that hosting the tournament would place a lot of pressure on Casablanca airport to act as the main international gateway and hub for domestic flights .. between them, Casablanca and Marrakesh airports are forecast to handle a total of around 24 million passengers (15 million and 9 million respectively) per year by 2026. The other airports are expected to handle another 13-15 million passengers between them, bringing the total to around 40 million. These numbers alone are below the threshold of 60 million .. and would not meet FIFA's minimum requirements..  While Morocco has announced 25 new bus rapid transit (BRT) systems and various new tramways, it was not clear (to FIFA) if they would be ready by 2026 (FIFA: Out of the 14 stadiums proposed, only seven (the Casablanca Stadium, Agadir, El Jadida, Oujda, Rabat, Tangier and Tétouan) would appear to have clear and viable transport concepts and accessibility options)
Morocco was projected to raise $690 million from tickets and $380 million from hospitality and the report estimates that organizing the World Cup contest in Morocco would cost FIFA $1.82 billion mainly comprising payments for commercial (including TV operations), administration, services (including IT) and team services.
Summary: Morocco is in the 2018 World Cup, unlike the USA. While the world is polarized now,   there have been a few comments endorsing the American win, with the assurance that, in 2026, President Donald Trump will not be in office, even if he wins re-election in two years time. But with the 2022 tournament set for Qatar, it would be a tall challenge to have the 2026 tournament in the immediate vicinity, and though Morocco is on a different continent than Qatar (the report cites a FIFA rule that continents where tournament are being staged i.e Europe (Russia) and Asia (Qatar) were not eligible to bid  for hosting, Morocco's geographical proximity and similar circumstances to Qatar were probably swaying qualitative factors in the final decision.
Also see this old guide to Casablanca, Morocco.