Companies: 
Last November, KPMG and H2 Ventures released a
report
listing their fourth annual fintech innovators ('Fintech100')  comprising 50 established companies and 50 emerging companies to watch in Fintech.  The companies are innovation across sector like banking, payments, remittances, spending, artificial intelligence, data management, and insurance.
They noted that China continues to dominate the fintech landscape, with 5 of the top 10 companies on the list. Digital or new banks in the list include Solaris Bank, Nu Bank, and Atom Bank.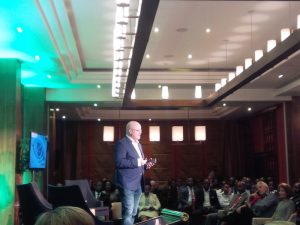 Some notable companies on the list;
ZhongAn (online property insurance)
Stripe (frictionless financial transactions)
OurCrowd provides an equity crowdfunding platform for accredited investors to access and invest in Israeli companies)
Circle (free international remittance via email)
Xapo allows users to utilize their bitcoins while Xapo safely stores them)
Future Finance (gives students loans of 2,000 to 40,000 pound,  within 24 hours that can be paid over 5 years)
Coinbase (enables digital currency transactions)
AfterPay Touch (from Australia gives online shopping users an option to spread purchases across four equal installments)
Robinhood (free stock trading of US stock and ETF's)
Alan (Europe's  first digital health insurance company)
Bud (enables users to combine bank accounts and get personalised insights from a single source)
Capital Float (from India provides collateral-free working capital loans to small businesses within 3 days)
Cuvva (provides short-term,  flexible car insurance to consumer groups, including taxi- drivers that range from 1 hour to 28 days)
Flutterwave (from Nigeria, is in over 36 African countries, enables individuals and businesses to accept online and offline payments)
GrassRoots Bima (from Kenya matches customers with micro-insurance products – known as WazInsure)
KredX (from India matches SMEs seeking working capital with investors looking for above-average yield on short-term investments)
Leveris (banking platform for digital retail banks)
Riby (Nigeria cooperatives enabler)
Sensibill (allows bank customers to get their receipts in a few different ways)
SoCash (addresses cash logistics issues for banks)
Token (an API banking platform)
Valiant Finance (an online broking platform for SME's)

 
Influencers
: Also, Jay Palter has a list of 195 fintech
influencers
for the year 2018; have only heard of a few – Brett King (who visited and
spoke in Nairobi
in January 2017), Yann Ranchere, Elon Musk and Vinod Khosla, but will check out the rest.
EDIT
Also,  the new
CB Insights
report on fintech observations and trends to watch in 2018 cites:
No billion-dollar fintech M&A in 2017
Chinese firms drove fintech IPOs in 2017
Europe saw record for fintech investing in 2017, as Asia and the US saw fintech funding recede
Amazon gets more aggressive in fintech — outside of the US, but Amazon's US efforts are a far cry from Tencent and Ant Financial's global fintech forays in China
The largest deals in 2017 went to companies providing insurance…
Startups are allowing Chinese investors to access overseas securities and In 2017, Ant Financial's Yu'e Bao became the largest money market fund in the world
Banks forgo partnering in favor of fighting fintech with fintech