I had a tea chat with Mbuvi Ngunze former CEO of Kenya Airways (KQ), now advisor to the board on his time at the airline and views for the future. It was with a view from the perspective of retail investors and shareholders who will be affected by a restructuring process that is ongoing.
Excerpts
Assets: The airline now has a lean fleet with three aircraft groups: Embraer 190's, Boeing 787's and Boeing 737-800' s (with some 700's); while this is thin, this choice decision to stretch the fleet was much better than having idle aircraft sitting around – and they have been able to serve similar passenger numbers with the smaller fleet. He added that the global industry is in a slump with airlines like Emirates and Ethiopian parking aircraft but with KQ did not have that option, and it was perfectly okay to lease out aircraft and get them  back in a few years
Liabilities: They were servicing bank loans, but these unsecured lenders (the local banks) had to be refinanced. While some banks were upset about the deal to take equity in the airlines, and some are less comfortable in taking a hit, he emphasized that KQ had to treat all banks as an asset class equally in the transactions, and could not pick only some the banks.
Could this have been done earlier so the restructuring was not as drastic? He said it had to happen like this, in sequence, and that they had to right-size their operations before they turned to the banks and the balance sheet.
Revenue:   Routes have to make commercial sense to take them on. While there is an expectation to have direct flights to the US start soon, he'd rather get the ability to code-share, sell tickets, and earn revenue by selling tickets from Nairobi to any US city first. KQ can't do that now, but Kenyan passengers do that with their partner KLM.
Also, there are many aspects to ticket pricing and KQ has to maximize on routes where they can to realize profits for shareholders.
Expenses:  Expensive Advisors? one complaint about the restructuring was the amount going to be paid to deal advisors  –  but he said that was traditional for arranging such deals and the costs were about 5% which as typical
Management: I conveyed a question from blogger/investor Coldtusker – on a perennial problem  at KQ of misaligned interests between board/management and shareholders, – his predecessor famously hinted that he'd rather buy livestock than airlines shares, and Mbuvi said that this was one of the things being addressed in the new equity deals that call for KQ employees to own up to 2% of the airline through an ESOP. He could not say if this is what led to pilots staging a go-slow last week, but he said that he was not involved on a day-to-day business since he had long ago handed over and oriented his successor – but added that performance-based compensation had to happen – however unpopular it was for pilots or shareholders.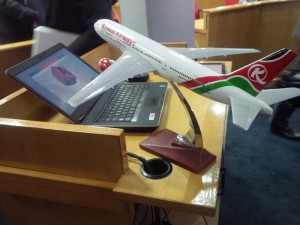 Other Chats
Expectations: He said, it's wrong to compare KQ and Ethiopian airlines, as they operate in a totally different airline market. Ethiopia is a closed aviation market, while Kenya is an open market – and Kenya's open policy means that they control 40% of traffic into Nairobi, while Ethiopia has 80%. At Addis, Emirates flies' 7 times there, compared to 21  to Nairobi and they also control cargo.
London Heathrow sale: a slot is not a building or a desk that was sold – it is the much-coveted right to a time to land and take off from Heathrow
The Senate was a circus – one that delayed and disrupted ongoing shareholder discussions, and where wild claims were made before television cameras – such as allegations of secret ownership of aircraft. He said KQ does not need to use intermediaries to talk to Boeing or Embraer.
He has no regrets; he came in as CEO at a time when things went wrong at the airline, but he does not feel he was handed a poisoned chalice.
Could things have been done differently? Yes, he would have taken Project Mawingu in slower steps.
For shareholders, he said it could have been worse and he says this restructuring is not due to the new companies act – the law was always there. Nationalization was considered, but it was discarded as it would not be good for KQ to operate as a government parastatal.
At the EGM this week, where shareholders will vote on an equity restructuring program, the same board will be there, and he will attend as a board advisor, not the CEO. The board will change after that and he says that going forward, he plans to be a shareholder of the airline.