In axhe post today was a shareholder circular from Atlas Africa Industries. Its' been online (PDF) for a few weeks and outlines Atlas plan to dispose of an Ethiopian project to another shareholder.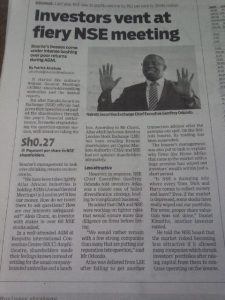 Ethiopia Venture
In December 2005, Atlas announced the acquisition of  East Africa Packaging Holdings Limited and its Ethiopian subsidiary TEAP Glass PLC with plans to build a new state‐of‐the‐art glass bottle manufacturing facility, on a 5.5 acre site located in Chancho, 45km north of Addis Ababa, Ethiopia (the "Chancho Project")
(But) the Company's progress was terminally undermined and derailed by the actions of the Ethiopian Revenue and Customs Authority ("ERCA").. (and) .. was subjected to a complete injustice, through the summary removal of approximately US$2.4 million from TEAP's bank account with the Development Bank of Ethiopia by ERCA (the "TEAP Claim Amount").
In April 2017 disposal of the Chancho will be effected by the sale to Innovative Africa Investments Limited ("IAIL") and Eagle Investments Limited, being independent shareholders.. the losses attributable to the assets being disposed of pursuant to the Disposal during the last financial period (12 months ended December 2015) amount to US$254,216.
This Ethiopia disposal and the resignation of I&M Burbidge Capital who terminated their investment advisory contract is to be voted on at the Atlas Africa AGM which will be held on June 20, in Guernsey, where the company is incorporated. It seems that the I&M Burbidg notified Kenya authorities and as a result of this, the shares of Atlas that are listed at the Nairobi Securities Exchange were frozen on May 12 this year, just a few days before the Ethiopia disposal was then announced.
At another AGM this week of the Nairobi Securities Exchange, itself a listed company, some shareholders took the opportunity to vent about the dismal performance of Atlas Africa whose share price had plunged sharply since it was introduced, and which was now beyond reach of its Kenyan shareholders.
Farewell Atlas: The circular notes that  The board (has) taken the decision to undertake a managed and controlled wind‐down of the group, with a view to ensuring that liabilities are settled and assets are realised whilst cash outlay is reduced, with a view to returning any surplus to shareholders in due time. As part of this process, the board also believe that the Company is likely to de‐list from GEMS, and further announcements will be made with a proposal in this regard, in due course.
But is Atlas Africa a shell? This Global Witness article is about how directors, hiding behind anonymous firms registered in tax havens, carry off a multi-million-dollar heists by selling assets they already control to shareholders of their listed companies at inflated prices. They never declare their secret ownership – and ordinary investors had no way of knowing.