Season 4 of Coke Studio Africa started showing on TV in Kenya last month. This is the first time I've really paid attention to it, and for the first time I can say,  I now understand what the show is about – which is to showcase African music and artistes to new fans across the continent.
The shows were shot in Nairobi and had artistes are flying in from all across Africa. Season 4 will be another massive production in terms of logistics, music production, digital, and television broadcast – that features 38 artistes from 11 countries. I did not know a single musician from Mozambique but, representing Lusophone Africa, there are two this season – with fabulous females in Neyma and Lizha James. Also, DJ's in Kenya have been playing a funny-sounding song that has a line that rhymes like "why chew kucha" (why chew your fingernails"?) – but the song is actually "Atchu Tchutcha" by Mozambican Angolan singer, Yuri da Cunha who's also featured this season.
The artistes are invited and scheduled, paired and flown in to meet in Nairobi, chat with each other, and try each other's foods to build bonds. They learn each other's music, pick songs they like and sing versions of them, mixing languages and musical styles. Modern music has some powerful performance when people sing each other's songs and many musicians have their largest hits from collaborating with other artistes – Whitney Houston (& Dolly Parton), Nelly & Kelly, Puff Daddy (& Sting), Sinead O'Connor (& Prince), Jay-Z & Linkin Park, Eminem & Dido, Santana & Rob Thomas, Wyclef & Shakira, etc. The Coke Studio sessions are done in a mix of other events that happen around the presence of particular artistes in Nairobi. Other local teams work around the artistes pairings and locations doing live bands, back up singers, filming, recording, wardrobe & makeup, media teams, digital teams etc. Local sponsors this year are Kenya Airways who get to showcase their regional route network (flights to 40 African cities), Samsung,  General Motors who's Chevrolet Blazers zip the artistes across town and Sarova hotels.
The shows are shown in different parts of Africa on DStv and local broadcasters so different regions get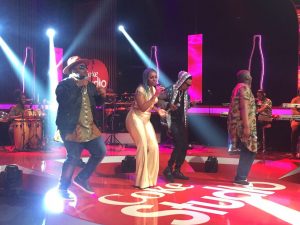 different shows in five languages (English, Amharic, French, Kiswahili, and Portuguese.) with emphasis on music that appeals to a region.
Last week's show in Kenya featured Lizha James and "The Kansoul" (i.e. Mejja, Madtraxx, KidKora) and was probably one of the best ones so far. Other Kenyan artistes featured this season are Jaguar, Sauti Sol, Nyashinski, and Bahati.
Most of the song clips will be available on YouTube and this year there's also an app (at the Google store) that fans can use to download and watch all the songs and video from Season 4 as well as from two past seasons of the show.