Excerpts from the Economist Events #GrowthCrossings dinner in Nairobi this week.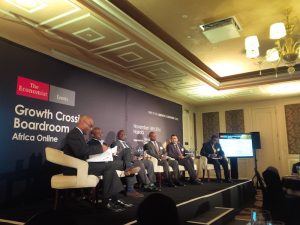 China grew by exporting to the world, Africa is rising by buying products – Abiola Olaniran
There are 1 trillion cash transactions in Africa that can be financially included through partnerships & technology – Sanjay Rughani
In two years, the unbanked African population has dropped from 54% to 46% – Sanjay Rughani
An ADB study found 3 drivers of Africa growth to be demographics (young urban population), climate change, and digital leapfrogging – Donald Kaberuka
A mobile network is many things in Africa, and Safaricom will be an ecosystem for others to succeed e.g in health, education, energy – Stephen Chege.
E-commerce is driven by high volumes, consistent delivery, and consumer protection – this takes a lot to succeed in Africa –  Sanjay Rughani.