Centum Investments, which recently announced a record profit, and the end of a seven-year deliberate dividend drought, has been running ads in the newspapers and online, asking shareholders to register their names & details via SMS to ensure that they get their payments on time.
At the same time, Centum has also published a list (PDF), on its website, of shareholders who have not claimed their dividends. The list has about 9,000 names, and that's a shocking stat, considering that Centum  has about 37,000 shareholders.
No shareholder likes to lose out on a dividend or an investment. And regular shareholders who attend AGM's have also been aware about resolutions at companies to comply with a legal requirement to  surrender unclaimed assets, including dividends, to the government.
Almost all large public companies, except those which listed recently, list & highlight their liability from unclaimed dividends (owed to shareholders) for many years in their annual reports. But if 25% of Centum shareholders, have not claimed their dividends, totaling Kshs 78 million after almost 8 years, it raises many questions about why this situation exists. But one reason could be that shareholders have been unable to receive their dividends because some companies and their registrars have made it very difficult for shareholders to prove, claim and receive their rightful dividends.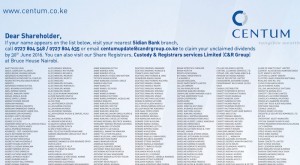 $1 = Kshs 100
 A  registrar is an institution,  responsible for keeping records of shareholders..and  when an issuer needs to make dividend payment to shareholders, the firm refers to the list of registered owners maintained by the registrar.
Centum ads say the registration is free, but normal SMS costs seem to apply.