Now's it's out in the open. That is the story of the non-executive directors and shareholders at Imperial bank.At a press briefing today they broke free of a media blackout that was requested by the Central Bank (CBK)  and the Kenya Deposit Insurance Corporation (KDIC) (the receiver manager of the bank), but  which they now feel has been used to leak only one side of the story on the collapse of the bank.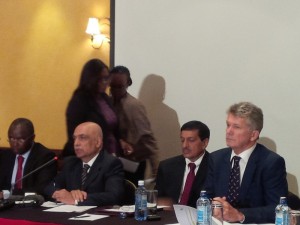 Discovery:  Governance rules exclude non executive directors from running the bank, so they are blindsided by the 13-year long fraud at Imperial.
 CBK & PKF failed in their audit duties; PKF in their tests, and CBK in supervision and not responding to whistleblowers
(The late Managing Director) Janmohamed was friend & none could imagine the betrayal; that a disturbed man with weak managers destroyed the lives of Imperial Bank depositors
Reaction: From when they discovered fraud, the non-exec directors & shareholders have tried to protect Imperial bank depositors & bondholders
CBK & KDIC asked them not to speak, but we should have been more proactive in communicating with depositors and bondholders.
Recovery Plan:  After discovery of the fraud, Imperial Bank directors took CBK a plan that called for recapitalization of the bank, recovery from wrongdoers, a payment of Kshs 1 million to all depositors and attracting a strategic investor within 12-18 months of reopening
When they presented the recovery to CBK/KDIC, Imperial Bank had good liquidity – ~Kshs 20 billion cash.
Way Forward:  They, as shareholders (& associates) are ready to capitalize Imperial Bank, but only after a due diligence is done.
While directors have joined the bank suit against Janmohamed's estate, they say KDIC is not pursuing all people involved in the fraud at the bank.
The CBK Governor is a principled man but his institution is being let down by dishonest people, a similar situation to what happened to them at Imperial.
 They are unaware of what KDIC / CBK plan for the bank, and are concerned that Imperial Bank customer data has been shared with KCB and Diamond Trust banks.
==============
My take, is still the same as in Part I
The only way for Imperial Bank to survive is if it is bought out by a large, multi-national, or regional bank. That bank will have deep pockets and will have done its due diligence on the true value and exposure that Imperial Bank carries, and received a waiver of obligations above an agreed threshold and from additional liabilities, prior to their agreeing to buy the bank. And if such a deal happened, the new bank will want to take on the Imperial customers and business but erase all traces of the Imperial Bank name, forever.