The Chevrolet TrailBlazer that is being used to support for the Tembea Kenya Maina Kageni Road Trip Tour is a 2015 model, new vehicle, that General Motors is showcasing around the country. In line with the current Chevrolet theme of finding new roads, the Trail Blazer caravan has been to many place likes Lamu, Lukenya, Amboseli, Nyeri, Baringo, Nakuru.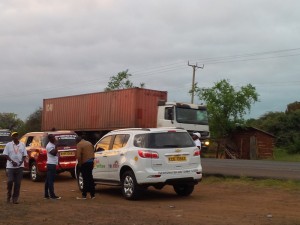 And while new highways and roads are built around the Kenya, the reality is that there are many parts of the country still unpaved and road maintenance is poor as it's only done every few years. This means that drivers  often encounter potholes, mud, wet roads, and high bumps in Nairobi and other towns all the time, and a tough vehicle with a high clearance is ideal.
Chevrolet is a strong brand world-wide for GM which remains the USA's largest auto maker with 18% in 2015. In Kenya, General Motors East Africa (GMEA), was started in 1975 as a joint venture between the Government of Kenya and General Motors Company, and is one that is currently 18% owned by Centum, and which is a leading exporter of new vehicles to countries in the greater East Africa region.
And while, in Kenya, it seems that every other car is a Toyota, GMEA is actually leading supplier of new vehicles into the Kenya market with about 6,700 new vehicles (33%) supplied in 2015. GMEA  assembles, markets and sells Chevrolet, Opel and Isuzu vehicles and parts in Kenya and the Eastern Africa region. In Kenya, their Isuzu brand is strong, dominating the bus, truck, and pickup market, but they don't want to rest on their laurels – hence the introduction of the Chevrolet Trailblazer in the growing SUV category.
 The 2.8 litre diesel, automatic model Chevrolet Trailblazer used in the Tembea Kenya campaign retails for about Kshs 5.1 million ($50,000) [but can be had for much less for embassies and government offices who don't have to pay Kenya's hefty new vehicle taxes].
The Trail Blazer is available in 8 different colours, and has 7 seats spread over three rows. Some of the nice features it has include individual overhead lights & A/C setting for each row, side steps, leather seats, rearview view camera with parking assist (useful at Nairobi malls), anti-theft /  immobilizer system,  a touch screen infotainment system that links to the phones via bluetooth or USB,  multiple, charing ports, steering wheel controls, and two setting of four-wheels drive (4WD) that the driver can adjust by simply twisting a knob.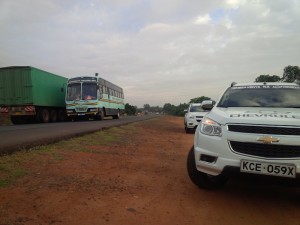 The TrailBlazers come with a 5-year service plan or over the first 90,000 kilometers which is virtually the life of a typical car owner in Kenya. Servicing is set for every 15,000 kilometers, and owners also have the comfort of a warranty and roadside assistance over the first 120,000 kilometres.
Last week, GMEA signed a deal with Kenya's leading asset financier, NIC Bank, to enable buyers of Chevrolet and Isuzu vehicles to get up to 95%, at an interest rate if 15.5% which can be repaid over 6 years . This promotion lasts till end of March 2016 and is available at all GMEA locations across the country.x