The Kenya Airways shareholders 2015 annual general meeting (AGM) was held at the KQ Pride Centre, Embakasi on Friday October 9. This was on the back of the year in which they lost (a corporate record) Kshs 25.7 billion ($257 million).
Board Changes (in the calendar year): In: Mbuvi Ngunze (CEO), Carol Armstrong, Wanjiku Mugane Out:  Titus Naikuni (CEO), Ayisi Makatiani, Dinesh Kapila and the Chairman Evanson Mwaniki who had announced he was stepping down ahead of the AGM by not seeking re-election. He said he was not running away from problem but it was time to give someone younger the chance.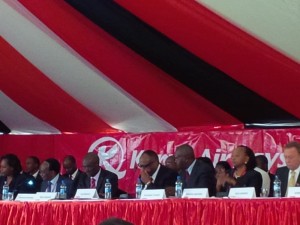 At the end of the meeting, there was re-election of directors to the board, and while 5 had applied, 3 of them had since dropped out leaving Jason Kapkirwok (a former KQ strategy director) and Dennis Awori (current board member) as the only two names for the two vacancies on the board.
The meeting was quite routine, ahead of the Q&A. After the auditor read his statement, which included an emphasis of matter (relating to the loss), the chairman invited KQ CEO Mbuvi Ngunze to give a brief on the state of the airline which he (Mbuvi) said was operationally sound, but had financial challenges.
He asked Kenyans to rally behind airline, as the staff are committed. Dubai and Ethiopia had aligned their hubs with airline and cities, but Kenya had not.
KQ has sold older Boeing 767 and 737, aircraft, but deals to sell the 777-200 fell through twice, and they have since hired an agency to complete this.
Seabury have been appointed to improve pricing and airline processes.
They have appointed financial advisor to secure $200 million and negotiated credit with local banks and patient supplies, as well as short-term loans from government of Kenya, and KLM has also provided some finance.
  Q&A 
Asked about the loss, finance director,  Alex Mwangi said, in short, they invested in the fleet, but revenue did not grow to match the increased fleet expenses (6 new 787's now, and 3 new Boeing 777-300 this year). He also said the aircraft buy decisions were made back in 2005 – even before Chairman Mwaniki (longest-serving director) joined the board.
One shareholder said the Kenya government should not give the board Kshs 60 billion, but instead jail the managers who were being investigated by the senate and get new auditors. Mbuvi said they  are cooperating with senate who say they have a constitutional right to ask questions.
PS  Kamau Thugge said that with the visits by President Obama, the Pope, the WTO summit and the lifting of advisories, the outlook was good for KQ.  He reiterated that the government was not broke as written in the media, and that they had already lent Kshs 4.2 billion to the airline, and facilitated the Afriexim funding.
 What's the use of KLM? Mbuvi said KLM is a commercial and shareholder partner on North-South routes and this has allowed KQ to focus on Africa where 60% of their revenue now comes. They also have 20 other partnerships.
Did Ebola really impact the results? Mbuvi said the Liberia and Sierra Leone routes generated closes to $4 million per month and the airline lost about $31 million in two weeks .
One shareholder was concerned that management is too optimistic. Last year they talked nicely after the airline lost money, only to come back this year and find that the position was even worse. He said they had also been sweet-talked by boards at Uchumi and National (bank) as the companies went down and wondered if KQ would be around next year.
One complained about, in the digital era, shareholders don't get to see annual reports, till they arrive at the AGM .
One shareholder who's a frequent flyer and trader on the China route commended the switch to new Boeing 787's, from the old 767's which would break down often in China resulting in extended expensive hotel stays for passengers and crew. He also said that Kenyans were lucky to have an airline, and that other African travelers depended on KQ.
Some shareholders complaints were contradictory; one asked for the meeting to be held in Mombasa, and another asked for bus fare to be refunded. One complained about high ticket prices, then later complained about having to buy water on JamboJet (KQ's no frills carrier). She also complained about kids been separated from parents in-flight (an international airline rule?)  and also asked the airline not to use prominent people like Chris Kirubi and Charles Njonjo (who crew would salute) in their adverts, but instead have ordinary passengers talk about their airline experiences.