The local newspapers have an ad by QNB Group (QNB – Qatar National Bank ). QNB is not in Kenya officially, but they are the largest investor at Ecobank (with 23.5%) who have a mid-size presence in Kenya (about No 20) – one of the 36 countries across the continent that Ecobank is present in.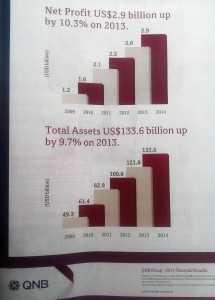 A newspaper opinion piece last year linked QNB with a bid to buy government shares in one of Kenya's state-owned local banks – one with a regional presence in East Africa. QNB Capital was also the joint lead manager for Kenya's 2013 Eurobond with plans to arrange a Sukuk (sovereign bond) for Kenya after the Eurobond.  
A Bloomberg piece notes that the Qatar bank is pushing into Africa as competition in its home market of 2 million people curbs profitability..with the possibility that QNB will go for the entire (Ecobank).