The Young African Leaders Initiative 2014 – #YALI2014 kicked off this week in Washington DC. Speaking at a meeting with 500 of the first class of YALI fellows, President Obama said that it will be renamed the Mandela Washington Fellowship (& doubled to have 1,000 fellows by 2016) and that four regional leadership centers would set up in Africa.
The regional leadership centers will be established in Senegal, Ghana, South Africa and Kenya and will offer courses on leadership, support for entrepreneurs through mentoring and access to capital and a networking forum. 
The Center in Kenya will have a robust training curriculum with direction from a partnership that brings together Deloitte's global management and strategy skills, the established curriculum and capacity of Kenyatta University, the public administration training of the Kenya School of Government, and Africa Nazarene University's youth engagement and outreach.
USAID is investing $38 million in the new YALI centers with support from the MasterCard Foundation ($10 million), Microsoft ($12.5 million), Intel ($5million) and Dow Chemical ($4 million). Others are McKinsey, IBM, General Electric, Procter​ & ​​G​amble and the Mara Foundation. (More at the YALI site). 
In a Q&A session, Obama also spoke about AGOA and the on-going  for renewal of the trade partnership between the US & Africa; He said, they have learnt lessons from the previous phase of the partnership and will work to lower other export barriers (such as transport & trade finance), and, starting with Uganda, Kenya and Tanzania, take steps to see how AGOA can work with effective trading bloc for intra-Africa trade.​​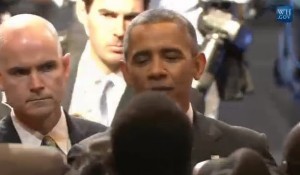 The YALI Summit events will lead up to the first US-Africa Leaders Summit, which, with over 50 presidents & prime ministers expected, is the largest gathering of African Leaders ever hosted by a US president.
Kenya's President Kenyatta is to participate in two events next week – a doing business in East Africa session and a presidential dinner, both organized by the Corporate Council on Africa (CCA) who have events for several other African leaders and nations like Ethiopia, South Africa, Ghana Liberia Congo  Mozambique and Tanzania among others.