On April 5, Kenya Airways (KQ), received The Great Rift Valley – their first Boeing 787-8 Dreamliner aircraft in Nairobi.  
KQ Managing Director, Titus Naikuni, said their aircraft were 3-4 years behind schedule and thanked the airline staff, passengers and salespeople for putting up with older aircraft in the interim. He added that plans are still on course for KQ to get more Dreamliner planes every month between June till October 2014. KQ Chairman, Evanson Mwaniki who was onboard the 16-hour non-stop flight from Paine Field, Washington to Nairobi, said they been assured at the highest levels of Boeing that the 787 program's teething problems had all been sorted. He said each Dreamliner with engines cost the airline Kshs. 11 billion (~$130 million seems low), while the new Boeing 777-300's arriving were Kshs 18 billion ($211 million) and yet they are competing for routes with Gulf nation carriers with seemingly unlimited pockets who could order 100 aircraft while KQ ordered 9.  He made three requests of the Government; to expedite bilateral air service agreements, sort out double taxation that penalizes the airline and also expedite VAT refunds.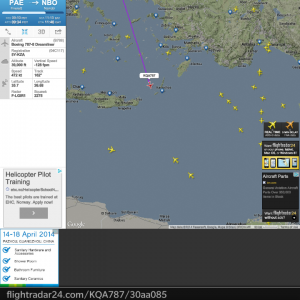 Tracking the Great Rift Valley
Transport Cabinet Secretary, Engineer Kamau said the government of Kenya and KQ had worked on new terminals (Greenfield started, Terminal 4 ready in July), and new aircraft (777, 787) and invited the President to use Kenya Airways for trips and for KQ to use the President who travels a lot and get themselves on his agenda for such trips. 
Also at the launch was the President of Somalia, Hassan Sheikh Mohamoud, who said terrorism was a global challenge and that, while Shabaab was associated with Somalia where it gained a foothold in the then-lawless state, it is now losing ground in terms of financing, recruitment, and training. He thanked Kenyans for their tolerance and accommodation of business people and said Somalia was on track for a first election in 45 years in 2016 in which women would also vote. 
President Kenyatta said KQ had more of a global reach than Kenya embassies so was in essence first ambassadors for the country and that in his personal experience it had the best pilots and crew in the world. Later he noted that pilot costs are heavy, and that KQ's labour is less productive than Ethiopian Airlines and that it was necessary for the airline to simplify operations and get better staff productivity.  He also said that Angola had agreed to open an embassy in Nairobi  – a relief to many as Kenyans applying for visas have to do so via Dar es Salaam, Tanzania.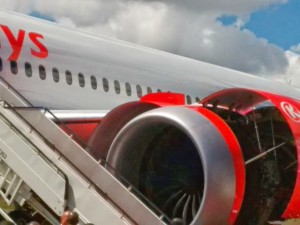 Engine cool-down after the extra long flight
The new aircraft is part of Project Mawingu, the airline's massive fleet, and route expansion program. It will start on the Paris route in June and in between will be used for familiarization of staff, training, and be showcased to key KQ markets.  At the launch, a General Electric representative thanked the airline for having over 100 of their engines in the fleet, while a Boeing VP said KQ had designed and selected one of the best Dreamliner interiors on offer.