2012 was expected to be an election year, which for Kenya are unfortunately marked by low economic growth, but this weekend, the electoral authority made an announcement that the next general elections would be held in March 2013.
A quotes from the above referenced post by Wolfgang Fengler, the World Bank's Lead Economist for the region reads;
Since 1980, Kenya's economy grew by an average of 3.4 percent. However, in election years, the average growth rate was only 2.4 percent, and growth was even below 2 percent in four of the election years. Equally challenging has been the management of post-election dynamics. Kenya achieved a modest 2.7 percent in post-election years, and three of the last six elections were followed by low-growth, especially in 2008, when post-election violence disrupted the country's achievements of previous years.
It's also been incredibly hot & dry in Nairobi and we all hope that the upcoming March/April rains will restore some supply balance for agriculture (food prices) and energy (hydro electricity costs)
On to the index comparing prices of basic urban commodities to three months ago, a year ago and even four years ago when the country was still dealing with the disruptive after-effects of the controversial December 2007 election.
Gotten Cheaper
Fuel: Petrol prices were reduced again last week to Kshs. 111.6 per litre (~$6.12/gallon) for Nairobi, down from Kshs 124 in December 2011. However a year ago the price was 98.8 (when the price control regime had just been introduced) and four years ago, after the election, a litre of petrol cost Kshs 87.9.
Staple Food: A 2kg pack of (Unga) Maize flour, which is used to make Ugali that is eaten by a majority of Kenyans daily, costs Kshs. 97 down from Kshs 113 in December 2011. However last March it was Kshs. 80 and four years ago (Feb. 2008) it cost Kshs 52.
Other food item: Sugar: A 2 kg. Mumias Sugar pack which was Kshs. 375 in December is now Kshs 245. However a year ago it was Kshs 195, and other commodities normally bought alongside it (bread & milk) have had steady price rises this year.
Foreign Exchange: 1 US$ equals Kshs. 83 compared to 84 in December 2011. This is exactly where it was last March 2011 before the Kenya shillings began a (now controversial) slide to Kshs 107 against the dollar. In February 2008, the dollar was exchanged at Kshs 70.7.
About the Same
Communications: Telephone call and data rates are largely unchanged, but Safaricom announced new rates for m-pesa including a slight increase for some transfers, but they also reduced the minimum amount that can be sent, opening the way to micro-payments. Meanwhile Airtel, who have set the low call regime over the last two years, appear to have reached an about-turn moment with their Chairman calling review of that strategy.
Utilities: Pre-paid electricity is about Kshs 2,500 per month which is unchanged from the last review. I finally got a coherent explanation from a @KenyaPower employee on how you get hit with extra taxes if you buy more than a certain amount of Kwh units.
LPG: Cooking gas supplies seem to have resumed stability for now, but at a price of about Kshs. 3,000 ($37) for a 13kg cylinder, up from less than Kshs. 2,500 before. Personally, I ditched my total LPG cylinder for a Kenol one as Total petrol stations never seem to stock enough for customers.
Beer/Entertainment: A bottle of Tusker beer is Kshs 180 ($2.2) (at a local pub), unchanged from three months ago..but it was Kshs 120 in 2008.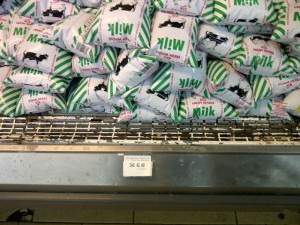 More Expensive
N/A
Generally prices have come down, but life is more expensive than what it was four years ago when the last election was concluded. However there could be some slight relief in slight for urbanites as the Kenya Cabinet approved the VAT bill 2012 which removed VAT from maize, wheat flour, milk, bread and medical supplies.