Like with Kenyan stockbrokers, just over a year ago, political parties have been drawn out of their shells to publish some semblance of financial accounts. The carrot that has drawn them out has been state political funding for parties (by taxpayers), one of whose requirements is regular account disclosures to the public.
Some findings:
– Income is from a variety of sources that range from the state a (NAP-K Kshs 0.6 million ~100%), party founders (National Vision – Kshs 4.2 million ~85%), fees charged to applicants for party posts (Ford-K Kshs 3.2 million ~30%), and contributions by party MP's (ODM Kshs 20 million and Narc Kenya Kshs 2.2 million = both ~25%)
– Expenses vary across different parties but common to all are spending on workshops and regional /branch promotion expenses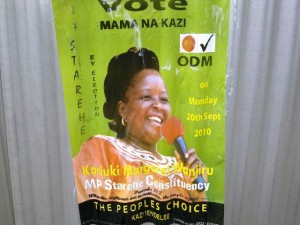 – Campaign Finance: The need to raise money for elections has been cited as a driver behind some of the country's largest corruptions scandals, but this money is rarely reflected in the accounts of the parties. The June 2010 South Mugirango elections was contested by Safina, PDP, Ford people, Labour party, ODM, Nark Kenya, National Vision, and KANU, and many of these did not claim to spend funds in election campaigns – and of the dozen parties that have released June 2010 numbers, only Safina (at Kshs 3.5 million) and ODM (Kshs 26 M) claim some spend on campaign expenses. ODM also claim Kshs 9.9 M spent on civic education (two months before referendum). Narc-K won two recent by-elections, thanks to their generous but controversial candidates, and its doubtful if what they spent will be measured or accounted for by the party.
– Some parties are shells: NAP-K spent its entire PPP funding of Kshs 0.6 million on among others, website 100k (www.Nap-k.org), 91k on developing party manifesto, 150k on branch opening, leaving Kshs 2,196 in the bank. You could call this a compliant briefcase party in waiting for a candidate looking to use the party to contest future elections.
– Co-operative bank is listed as the main bank for several parties, perhaps because they have a branch a stone's throw away from parliament, but most parties don't have much left in the bank as at June 2010.
Summary: It's a good start, which parties should continue to be required to comply with. Over time the disclosures will improve and hopefully the governance and administration of parties and the election scene on Kenya. Safina is the only party to claim an auditor expense (of Kshs 55,000) for a clean audit.
Also the Sunday Nation has written about party finances.