This year's edition of the Kenya Tourism Board Easter 2010 Holiday Expo was held at the Sarit Center last weekend. Some of the notable offers were
Nairobi: KWS has self catering guest houses in most of the national parks and mountains areas. They also offer shuttle services to the Nairobi National Park from downtown Nairobi on Saturday, Sunday and Holidays (9.a.m and 2 p.m.) at a cost of 500/= (~$6.5) for adults and 200 for children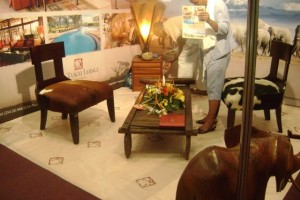 Country-wide: Heritage have full board and family adventure packages at their three Mara properties, (Siana, Intrepid and Explorer), three coast properties (Voyager Ziwani, Voyager beach resort, Kipungani -Lamu), as well as Samburu intrepid, and Great Rift lodge (Naivasha)
Ashnil Hotel has Aruba Lodge (located next to a man made dam inside Tsavo Park) at a cost of 6,000 ($80). They also have a new controversial camp inside the Masai Mara, but recently lost their 200 million shilling ($2.5 million) tented camp in Samburu in a matter of hours after heavy rain and flooding last month. Another property in the Samburu managed by Atua Enkop Africa got insurance compensation after flooding. Also not nature related but a looming disaster, the Bogoris Spa Resort and other hotels around Lake Bogoria must be wondering what will come after the recent Endorois court award that may affect their land holdings.
Also in the Central Rift there is also Lake Nakuru Lodge single in April to June is 8,000 while its 11,000 in high season from July to march, sunbird lodge at lake Elementaita at 5,200 full board from April to June, Kigio with Kigio Wildlife Camp and Malewa Wildlife Lodge
In Western Kenya, there's a new entrant from Kakamega – Mago Guesthouse.com – an income generating venture of the Mago youth polytechnic in Kakamega with prices of 2,500 half board for residents missionaries and volunteers.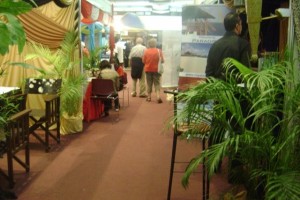 Kenya Coast: New North Coast Beach Hotelwon a prize for best stand the expo. They are trying to establish themselves with low introductory rates e.g. single half board is 5,800 ($75) and 6,500 full board up to December 2010 (except Christmas fortnight)
– Mombasa continental has a flying package from Nairobi 22,750 ($295) per person for 2 nights half board up to July 2010, while singles normally pay 6,500 in the low season (April to June)
– Leisure Lodge Leisure Lodge, site of the Kenya ICT Board
connected government workshop has single rooms at 6,900 8,855 and 10,960 for Easter week.
East African Tanzania had Kempinski (Dar $130, Zanzibar $170, Serengeti $200 and Blue Bay), Plan Hotel (mapenzi beach camp special $333 and Neptune pwani beach $234) Hotels & lodges Tanzania (private island Zanzibar $264), Lamela Camp (Ngorongoro and Serengeti) and Gibbs Farm (Ngorongoro and Manyara)
Uganda had Lake Victoria Serena – opened in September 2009 with 2 nights flying on Air Uganda at $590 per person, Peal of Africa (tours of Bujagali falls) and ATV Safaris (ATV/quad bike safaris at lake Mburo)
other – Sports: surprisingly did not see any world cup related travel opportunities to South Africa in June/July 2010 – a missed opportunity?
– Kuoni have a package for golfers for $1,185 comprising 6 days of Golf at Windsor, Karen, Muthaiga and the Great Rift Courses, with the option of an extra trip to Masai Mara for ballooning
– Wildflower have the Wildman Triathlon 24 -25 April 2010 at Turtle Bay Resort (Watamu)
Wedding: Serena Hotels had a beach wedding package for $1,380 per couple with 2 nights half board VIP stay, marriage license & certificate, wedding cake, champagne breakfast, wedding gift, bride manicure/pedicure, and guest of the couple enjoy 10% off.