The brief opportunity window for Airbus closed when Boeing announced that Kenya Airways has selected the Boeing 787 dreamliner to be their next generation aircraft. This means Kenya Airways will remain an all Boeing fleet with 737, 767, 777, and now the 787 which is first scheduled to fly in 2008 with KQ receiving their planes after 2010.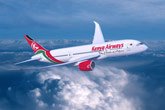 Pic from official Boeing new release
Earlier Airbus officials had talked with KQ management, arguing that it was better and cheaper for the airline to source planes from two major aircraft manufacturers – Boeing & Airbus.