Nairobi Serena Hotel has just been named the Leading Hotel in Kenya at the 2015 World Travel Awards.
Established in 1976; the hotel has been modernized over the years with timely, yet discrete, renovations and now has 183 modern rooms with all the modern necessities. In many Kenyan's minds Serena, is a concept, not a place; this comes from the 2008 post-election mediation talks that were held at the hotel, and for a few weeks, Kenyans got daily updates from the hotel which was the effective centre of efforts to stabilize the country as mediators led by Kofi Annan tried to get the two (then) warring sides of politicians to come to an agreement.
As a business traveler, it's easy to see why the hotel gets so many visitors and hosts so many corporate events. The hotel is located about 200 meters from the edge of the centre of town and borders Central Park and easy walking distance past the park which many Nairobian's wrongly refer to as Uhuru Park. From the outside, it's clear that greenery and landscaping are part of the hotels' brand as it blends well with the surrounding park.
Once inside, after a brisk but efficient security is a brown lobby that sets out an African theme that  extends throughout the hotel; from the staff uniforms to wall murals, carvings, to duvet covers, and the corridors on every floor, – you are constantly reminded that this is an African set in a green park. The art pieces which originate from different African countries are properly identified.
There are several event rooms of varying sizes, that are used for various corporate events. Whether it's an early morning breakfast for a company to announce financial results to investors before the stock exchange opens, or a cocktail to launch a mobile phone in the evening, the hotel staff and service seems to always be fresh and impeccable. The hotel is unique among the top Nairobi hotels in that it has ample and secure parking for its guests and visitors.
Whether you arrive late at night from Europe or Asia or have an early morning flight to another African capital, guests are sure to get the service they need. Room service is 24 hour, and one can arrange for early morning breakfast before an airport dash or a fast period.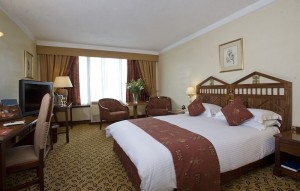 If a guest arrives late and has to work overnight, the hotel has a fully equipped 24-hour business center where they can print, bind, and scan documents ahead of a busy day.
The hotel has two full-time restaurant open form about 6:30 a.m. to 11 p.m. but one is closed on Sundays.
The standard rooms have double beds or twin single beds depending on the guest request. The bathroom is simple to operate with a standard bathtub/shower plumbing layout and there is a fresh dressing gown and slippers for each room guest. There are also several levels of suites for guests who require such facilities and spacing.
There is an interactive TV that welcomes the guest to the room, that's activated from the reception and this also helps orient the guest with the hotel facilities and layout.  There is complimentary Wi-Fi for guests in the rooms and throughout the hotel. The rooms also have mini-bar (that guests will incur charges for using) and a complimentary in-room self-service beverage layout that's refilled every day.
There are extension cables to enable guests to charge various electronic devices (phone/tablet) simultaneously if one has forgotten a cable or not got the right plug for this country. The in-room safes are extremely large and one can safely put in several files of confidential documents in addition to a few laptops, phones, cash, passports etc.
Some business-friendly features include, same day laundry and even faster 'express service' from their in-house Laundromat, and there is also a unisex beauty salon.
The outdoor heated pool is somewhat secluded from the dining and guest area. This is good as no one wants to swim while day visitors attending a workshop or eating lunch at a workshop gawks at them, Some shrubs and artefacts provide discrete partitions.
The second floor is designated as a smoking floor for guests who prefer that. Unlike other hotels, the evening entertainment is light music at a piano bar, not too loud and there is no casino at the hotel.
The guest relations can arrange for limousines and taxis,  mobile phone rentals, golf outings, visits the Nairobi National Park or other activities further. They also offer babysitting, family rooms, children's dining/menus and there is a house doctor on call.
The hospitality offered by the well-trained hotel staff keeps bringing guests back, enabling them to have a relaxed work or family setting hidden behind the shrubs and trees that also filter out the noise of Nairobi's (now notorious) traffic.
While the local hotel industry still fails to rank and rate Kenyan hotels. Serena Nairobi is clearly five-star and is a member of the 'Leading Hotels of the World' group.
From October 2015, Nairobi Serena will undergo another phased refurbishment and extension. Additions over the next two years will include a new ballroom, new upper car park, new restaurant, shop, salon, new executive lounge,  and rooms on the 7th floor will see their number increase from 183-199. The directors of Serena plan that these improvements will ensure that Nairobi Serena remains the preferred and leading hotel for visitors to the city for the next 30 years.