After almost three hours winding through about a dozen checkpoints and queues inside Murtala Muhammed International Airport in Lagos, it was quite a pleasant sight to get to see daylight and planes lined up.
Three days before, Rwandair flight 200 from Kigali to Lagos was operated by a B737-700 and 201 from  Lagos to Kigali was also meant to be on a similar aircraft, but parked in at the gate  was an  unusually large Rwandair plane.
RwandAir recently acquired an Airbus A330-200 (christened Ubumwe) and with another Airbus A330-300 due in November, they are making a big splash about the planes. The new aircraft even featuring in minister's speech in Lagos and on TV and newspaper advertisements about Rwandair connecting Africa (never mind that Ethiopian, KQ, SAA, Arik have had similar wide-body twin jets for a decade).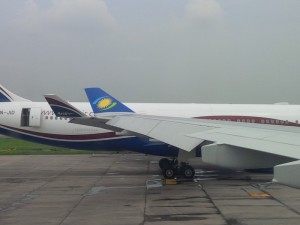 On this day, many of the electronic systems at the Lagos  airport were down, and virtually everything was done manually, with boarding passes written by hand. At check-in, I had asked for an aisle seat and the man at the counter nodded in acknowledgment, but when I looked at my boarding pass, my seat number was "F/S" – as was everyone else's – this meant "free-seating".
The airline staff at the boarding gate first ushered in the passengers who were in business class, and this included Clare Akamanzi,  Head, Strategy & Policy Unit, Office of the Rwanda President, who had been down in the queues, and gone through the whole laborious check in process like an ordinary passenger, including having her suitcase opened, then wrapped for security purposes. The airport staff said she was a Minister but clearly she did not behave like any minister they might have seen.
Other passengers were then allowed on board, with through the jet bridge that had been placed at a mid-cabin door and were then directed to pick any seat in economy class. The new plane has two large economy class cabins, a small premium economy one, and a business one near the front, for a total capacity of 274 passengers. Everyone in economy flopped into a seat relieved at the abundance bin space and many empty seats on the flight.
Points about the flight, using this borrowed format (via AU traveller)  
Airline review: RwandAir economy class, Lagos to Kigali
The airline operates a dream miles program on a visa card, but this was only my first round trip with RwandAir. The airline is also not part of any miles alliance partnership now.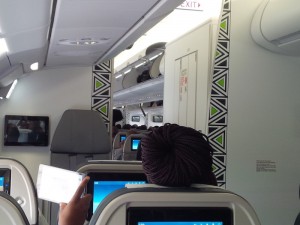 CLASS: Economy, window in the third row of the second cabin.
DURATION: 4h 30m.
FREQUENCY: WB 201 between Lagos to Kigali is 4X a week: Mon, Wed, Fri, Sun  (12:00 17:30)
THE SEAT: The configuration here is 2-4-2 in both economy cabins and many of the seats were empty. All the seats have personal touch screen entertainment displays, with light and flight attendant controls. There is also a USB  charger next to the screen.
ENTERTAINMENT: The touch screen system was quite nimble. My first set of headphones, given out after take-off did not work, but the second one did. You touch the screen and pick out  movies, TV clips, and games. The selection is rather thin, and you have to pause to escape from a menu but the system is nice once you're used to it.
The touchscreen menu options are in 6 languages – English, Kinyarwanda, French, Swahili Arabic, and Mandarin?/Chinese. There were other menu options like gambling games, a kids selection with games and movies and a music selection – with pop hits, African, Classical etc. I flipped back and forth between "Batman vs. Superman" and "Avatar" movies, and the system allows you to resume from where you left off in any movie or game.
BAGGAGE: This was dictated by Murtala airport where there is an elaborate  but time-consuming luggage procedure of weighing, tagging, scanning, searching physically, then wrapping the bags . A friend who had flown in from Kigali with two small backpacks was now told he could only carry one bag on board and check the other one as luggage on this RwandAir flight. We all lost our luggage and filed reports in Nairobi and the luggage has just been delivered (two days later).
COMFORT: Both the RwandAir legs between Lagos and Kigali are afternoon flights that arrive in the evening and match morning arrivals and night departures from Kigali, Rwanda.
SERVICE: The flight took off about twenty minutes late and there were several apologies made during P/A announcements to passengers.  In addition to the entertainment system, there is a Wi-Fi service on board though I was not able to connect. But @LucyMbabazi did on the very next RwandAir Airbus A330 flight and she happily reported on that, and other niceties  like a  massage chair.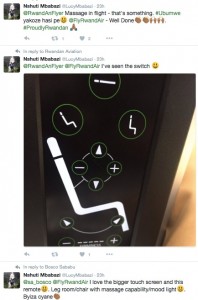 FOOD: There was a chicken or beef option with lunch about an hour into the flight.  The crew had two meal services sessions, one with the meal, a beverage before touchdown from which they did not deviate . They were rather stingy and would not add an extra beer, unlike the crew on the earlier RwandAir 737 flight. They also serve Rwandan coffee or tea. The meal serving trays are rather small, and you find yourself placing wrappers and utensils in your lap as you peel and eat.
ONE MORE THING: On landing in Kigali, RwandAir ground staff knew that there were late passengers connecting on  to other flight and they gave them priority with simultaneous  immigration and check-in e.g. for Entebbe, Johannesburg and Nairobi They had even pre-printed boarding passes for some passengers, and called them up by name to rush them through to the next flights –  nice attention to detail!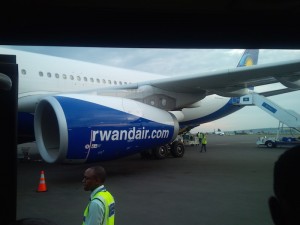 Some facilities are different about the  plane and that may mean they may have some breakages e.g with the bathroom doors that fold in the middle to open, rather than swing out (many passengers pushed and pulled them) and the headphones have a jack you fold in half to insert and use) .
THE VERDICT: Nice RwandAir flight on the new aircraft. The crew was probably testing out the new A330 and wanted to be efficient with a minister on board.