Monday this saw the signing of final agreements for the financing of the Lake Turkana Wind Power – LTWP project. This was the completion of a long, 9-year process that began with a fishing trip on Lake Turkana, that yielded no fish, but a lot of wind on the boat trip. 
The signing of finance deals worth 498 million euros (~ Kshs. 60 billion), will go towards LTWP which at Kshs. 75 billion is arguably both, the largest single wind power plant in Africa and, the largest single private investment in Kenya. 
The  Kenya Government has committed to raise the country's electricity generation capacity to 5,538MW (from the current 1,533MW) by the year 2017. 630MW of that will be from wind, and they have identified five strong wind areas in Ngong, Turkana, Kinangop, Kipeto, and Isiolo – and hopes that using renewable sources of energy like wind will bring down the cost of electricity to consumers, and save on fuel import costs for the country.
 The government's KETRACO agency will build a 428 kilometer, 400 kV line, from Loyangalani to Suswa Suswa to Laisamis that they say will be ready in 24 months and which will also link up with geothermal plants along the way.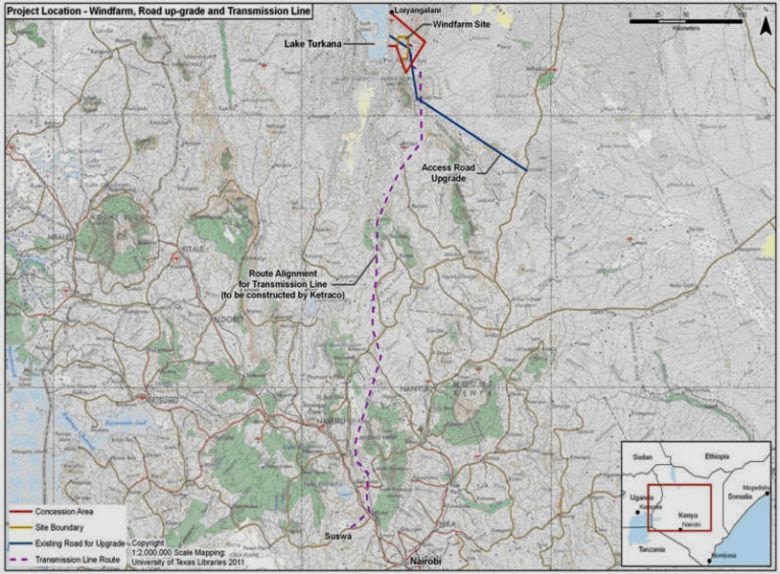 Image from LTWP website
The LTWP which will generate 300 MW, using 365 turbines in Laisamis (Marsabit) was registered in 2006 and brought on Aldwych International as an investment and development partner in 2009.
Financiers in LTWP include the African Development Bank (AfDB are the lead arrangers and who have provided a guarantee against some delays have also financed $1.7 billion in power generation in Africam with 39% of that going to private sector companies) the European Investment Bank. Standard Bank (Stanbic), FMO, Nedbank, EADB, PTA, PKF, DEG, Proparco and soon OPIC (US)
Other partners in LTWP include Vestas (turbine supplier), the governments of Denmark (proving EUR 135 million including 120m in export credits), Netherlands, and Spain (who are financing the Laisamis- to Suswa transmission line).
Next, the Kenya government wants to expand the number of last mile electricity connection while KETRACO also plans to extend the transmission lines to Northern and North Eastern Kenya – and on to Ethiopia, Tanzania and Uganda. This will serve the regional transmission purposes and also open up northern Kenya.
Joseph Njoroge,  the Energy principal secretary, said additional electricity opens up opportunities such as enabling the pumping of crude oil, the Standard Gauge Railway is also planned to use electric trains, Iron Smelting, as well as clinker production (by Athi River and Dangote).