A guest post by @Honoluluskye about a visit to Seychelles. In it's November issue, Vanity Fair featured a travel guide to the Seychelles which has 115 islands, located 1,000 miles east of Kenya, which is the closest point on mainland Africa.
Getting There: I used United Airlines miles to purchase the flight so it was a much better deal than the going market price (which I believe is about $1,500 USD per person). I used 70,000 miles and paid about $250 USD in taxes for two people round-trip with a 1 week layover in Ethiopia on the way back.
On Arrival: It was very easy to go through. The great thing about Seychelles (and Ethiopia) for Kenyans is that there is no visa needed. We got a pick-up at the airport included in our lodging so I'm not sure the exact cost but taxis are not cheap. It could cost between $20 – $50 USD to get from the airport to your lodging.
Getting Around: Most locals use the bus system which is quite reliable. It comes every 30 minutes or so and costs 5 Seychelles rupees ($0.37 USD) per person per trip. However, as a tourist you will probably want to rent a car (about $50 USD a day) as it is much more convenient to move around the island.
It is very safe and secure (esp. as compared to Nairobi). We were just told to watch our belongings and that pickpocketing has become more common but no violent crime.
Where to Stay: We used Airbnb and paid approximately $90/night. Most hotels are between $150 – 300 USD/night. Electrcity is quite reliable, and they have the British plug system.
Staying In Touch: You can purchase a SIM card quite easily (about $3.75 for the SIM card and some airtime credit). Data is expensive to use on the SIM and phone calls cost more than they do in Kenya. Also, it's hard to find Wi-Fi hotspots or cybers.
Shopping & Sight-Seeing: While most Seychellois use Creole (a pidgin French), most in the tourist sector are able to speak English well.
The capital city, Victoria is a small town walkable in about an hour or less. You might be able to find some gifts there but there's not much to purchase. We stopped by a grocery store to buy some vanilla tea and also brought home some coconut oil. There is a local rum, Takamaka Rum, that one can purchase either at local shops or even at the airport to take back to your home country.
The main sights are the beaches!!! We especially recommend Petit Anse on Mahe Island and La Source D'Argent on La Digue Island. Hiking is also great. We recommend Copolia trail on Mahe Island and Anse Major.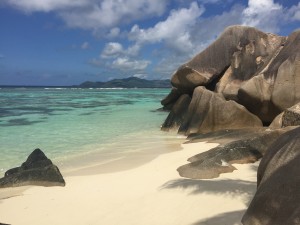 Eating Out: Most Seychellois (locals) eat at home so there are very few tasty and reasonably priced restaurants targeted to locals. Most restaurants are expensive and targeted at tourists.
The main local food is seafood (esp. fish). There is a delicious sauce called creole sauce that can be put on everything. Local beer is called SeyBrew and goes for about $1.50 USD – and easy to get anywhere.
Lunch could go for as much as $50 and dinner between $50 – $100 so if you plan on going to tourist joints, I would budget about $150 a day. We ate at smaller kiosks/take-away so we were able to get by on about $50 a day.