Three companies that had their year-end in March 2014 have just published their annual reports which are now found on their individual websites. 
Centum
Has  a (massive ) 160 page annual report and 37,000 shareholders
At the August 2014 AGM shareholders will be asked to approve items including:
The incorporation of Two Rivers Property owners Company
The incorporation of Two Rivers lifestyle Centre limited Kenya branch
The acquisition of 30% shareholding in Broll Kenya
The acquisition of 73% shareholding in Genesis investment Managers Kenya
 The incorporation of King Beverages
The incorporation of Bakki Holdco
The incorporation of Shefa Holdings
Other Notes
Rent income went from Kshs 6 billion in 2013 to Kshs 17 million in 2014?
 Other income was Kshs 443M, up from 12M
Cash flow went from Kshs 1.5B  to (minus)  -448<
The restated accounts have Kshs 237M paid to company shareholders, yet there are no dividends declared to be paid this year
For Genesis, they paid 1 billion for a company worth 153 million
They raised Kshs 4.1 billion in 2012 at about 13%
Centum Exotics owe Kshs 2 billion, Centum developments owe 1.8 billion and Two Rivers owe 2.5 billion to the company
81% of investments are in Kenya, 13% in East Africa, and 5% outside and 87% of the groups assets are not held on any stock exchange. Centum's investments include 17.8%  of General Motors East Africa, 15% of NAS Air  services, 27% of KWAL, 27% of Nairobi Bottlers & 43% of Almasi (Coca Cola bottlers), 35% of Platinum Credit, 1.6% of K-Rep bank, and 21.5% of AON Minet & 13.8% of UAP insurance companies
Kenya Airways (KQ)
130 page annual report and has 77 000 shareholders.
Are owed Kshs 156 million of Precision Airline of Tanzania (down from 242M)  and they own 41% of the airline.  KLM owns 27% of KQ. KQ are owed 4 billion by Aircraft Cargo Handling  and they owe the company back 7 billion
Have 12 year loans with Afrexim, Citibank, Stanchart that are guaranteed by USEximBank, while Co-Op bank financed purchase of a spare Embraer engine. The loans are at rates of 3.5 to 6.5%, and total $1 billion
KQ has paid Kshs 27 billion in airline deposits, and got a refund of about Kshs 2.8 billion in 2014 (from Boeing?). KQ also has Kshs 26 billion of aircraft lease commitments in the future.
The B787-8 aircraft will replace the B767- 300s on a one for one basis. The B777-300ERs provide growth in capacity. The B737-300s exit the fleet as JamboJet gains it's Operating Certificate and determines its own fleet requirements. Two of the E170s will be returned to the lessor as will two B737- 800s, which will be replaced with new leased aircraft.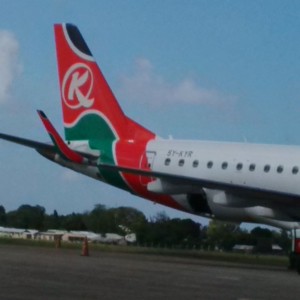 The most important project for the Information Systems team during the year under review was the Boeing 787 e-Enabling project. The project was set up in February 2013 to implement the e-Enabling platform design recommended by Boeing for the B787 aircraft. The purpose of the e-Enabling platform is to ensure secure transfer of B787 Aircraft Software from Boeing servers to Kenya Airways servers and subsequently into the B787 aircraft.
JamboJet lost Kshs 118 million so far, but KQ will apply a deferred tax of 221 million from Flamingo, their previous low cost subsidiary airline against that
KQ sas 4,000  employees and also has an ESOP that has been inactive since 2006 (with 2 million shares) . While outgoing CEO Naikuni (famously) still has no shares, directors with shares include Alex Mbugua with 25,000 while Chairman Evans Mwaniki has 42,000.
  Spent Kshs 40 billion on fuel & oil, and 8 billion on aircraft hire. Have  Kshs 1 billion in fuel derivatives
Have Kshs 106 billion in revenue (85% from passenger flights) and 89% of revenue is foreign (i.e. non-local flights) and they fly to 62 foreign destinations
Putting a damper on Africa Rising, the Chairman's statement notes that
African airlines international air travel expanded by 5.5% in 2013, a solid result but slower than growth in 2012 (7.5%). Overall, the demand backdrop for carriers in the region was strong, with robust economic growth of local economies and continued development of internationally trading industries. But some parts of the continent showed weakness, including the South African economy which recently experienced a slowdown. There has also been some slowdown in regional trade growth
The Kshs 5 billion loss in 2014 is an improvement from an 11 billion loss the year before.
Safaricom
136 pages and has 660,000 shareholders.
The Communications Authority (ex-CCK) gave Safaricom credit of Kshs 542 million against a license of Kshs 696 million.
Safaricom's operating licence was issued for a period of 15 years from 1 July 1999 to 30 June 2014. On 25 June 2014, the Communications Authority of Kenya (CAK), formerly the Communications Commission of Kenya (CCK), confirmed the renewal of Safaricom's operating licence for a further ten years from 1 July 2014 to 30 June 2024 at a renewal fee of USD 27 million.
Own 32% of TEAMS  (up from 22.5%). The company  acquired 10% at a cost of (just) Kshs 550, 620?!  TEAMS  had revenue of Kshs 382 million and a profit of Kshs 42 million in 2014. In 2013 they paid Kshs 556 million for the remaining 49% of One Communication which also has a deferred tax asset of Kshs 204 million.
There is an M-Pesa holding company that is separate from the company and who are trustees of all the funds that are held in M-Pesa. There is also a Safaricom Foundation that participates in many (small) projects and an M-Pesa foundation that is involved in larger (and fewer) projects.
Have Kshs 12 billion of bonds that retire in the next 18 month (7 billion in Nov 2014 and 4.2 billion in Dec 2015)
Bonga points; 84% of the points redeemed were for non-merchandise items (airtime, voice minutes, data bytes and SMS) while 16% were redeemed for merchandise items (phones, tablets?) in 2014.
The company bid and won a Kshs 201 million deal to brand Kasarani stadium and gymnasium
Lipa Kodi has 88 housing agents collecting rent from 60,000 houses while 122,000 merchants have signed on with Lipa Na M-Pesa
Directors: Chairman Nicholas Nganga has 885,00 shares, Michael Joseph has 2.3 million, Esther Koimett 517,000 and CEO Bob Collymore has 908,000
The newspapers in August 2014 note that shareholders will be asked to approve base station purchase from Yu for $1 million