Background: Kenya's top stockbroker, EFG Hermes has set out to expand from its institutional investors and also target retail customers. They launched their EFG Hermes One app in July 2021 allowing Kenyan investors to purchase shares on the Nairobi Securities Exchange (NSE) anytime on their mobile phones.
First Impressions: To get started, one had to go through the Kenyan regulatory requirements of KYC (know your customer). While the process is extensive for investors, with a lot of forms, ID, address and other details, new clients can scan and email documents, including photos to EFG Hermes.
Once you're done, download the app and log-in with the credential to start trading. One fund an investor using mobile money (M-Pesa pay bill) and selects their share account (CDS) to get credited.
For any issues, there are quick responses via email from EFG Hermes Kenya client services on issues like registration and trades.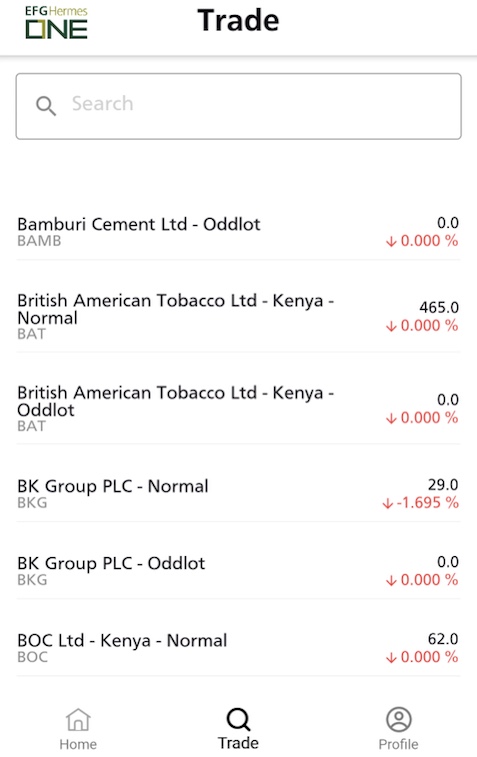 How It Works: Investors can view equities, and their portfolios with up-to-date prices, and also see their cash balances. They can place trades, set the prices and the expiry dates and see the commission/fee calculation before executing any buy or sell trades.
One useful feature of the app is that it allows trading of "odd lots". This is something not available at many brokers who still only allow investors to buy or sell shares in multiples of a hundred (100) shares – yet many investors end up with odd lots as a result of selling other shares in '00s or getting bonus issues.
another odd feature from the stockbroking industry is T+3 days/ again this is somewhat standard and after you sell shares, it will take about two days for funds to reach your account after that one indicated at the account opening where the funds will be sent.
For now, the Kenya app only allows trades of equities on the NSE, but in future may have more issues – bonds, derivatives, REIT's, ETF's regional and international products from EFG Hermes in different markets and assets classes and also as the NSE comes up with more products for retail investors such as day-trading and short-selling.
Verdict: It enables investors to trade from anywhere securely and tracks their trades and portfolios with up to date prices. The app is really small, just 10 MB, and does not use a lot of data to run. Many retail investors have other apps, laptops and sources to analyze what trades to make, and they can turn to the One app which can also be used to place trades after hours to execute when the NSE opens.
At the end of the month, investors get emailed a statement by EFG Hermes of trades during the month. This is a useful record to keep and they should cross-check with the one that comes from the CDSC.
The EFG Hermes One app is available in the Google Android and Apple App stores.