A guest post by MVQ
Intro: Why Nampula? Well its, the seat of northern Mozambique as well as an agriculture hub of southern Africa linking the cashew growing east with the soy and cowpea growing western areas of Mozambique. While the area is beautiful, there are few paved roads and thievery is rampant so be careful and you should have an enjoyable time. If you have the time be sure to visit the gorgeous and historical Isla de Mozambique – it is an under-visited international treasure from Portuguese colonial times!
Getting there: I flew through Johannesburg to Nampula. There is a direct flight between the two cities on South African Airways. The airport is quite small (one terminal, one baggage area, same person who checks you in, also boards your flight, etc.) Upon landing it isn't clear what to do. Eventually I figured out that you must (gulp) leave your passport with a customs agent at a small desk in the baggage hall, then find your way upstairs to the mini-customs office to buy a visa ($85), take a visa photo, and await processing. Luckily there are very few foreigners flying into this airport so the whole process took about 40 minutes for me and my four companions.
Getting around: There are few paved roads so 4X4 trucks are the norm. It is best to plan a car service in advance as there isn't reliable public transport. Be ready to pay for a driver by the day or to rent a car for the duration of your visit. Nampula itself is quite small, but if you are heading there, you will likely end up leaving the city for sight seeing or business – and having a car and experienced driver is critical.

Communications: You can pick up internet at most of the major hotels, though the most reliable way to access the interent is through your mobile service. You can pick up a local SIM card when you land. If you need to spend extensive time online, there are internet cafes and the Millenium Hotel has reasonably good internet in the main areas on the first floor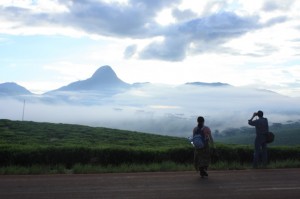 Hotels:
I only experienced the Millenium hotel, it was I believe ~$150-200 per night and was fairly nice for the area. The little restaurant in the hotel serves complimentary breakfast in the morning and Indian food in the evenings. They also have a small coffee bar with sandwiches.
Summary: This is a very small hub in a country still recovering from civil war. It is only a few hours from the beautiful Isla de Mozambique, and the farmlands of Gurue. They have built up a moderately robust infrastructure and it is relatively easy to navigate. Be very careful with your belongings and whereabouts (at the market a thief opened my car door and attempted to steal my camera and iPhone–so be careful!!), but it is beautiful, the people are for the most part quite kind, and the scenery is amazing!
Note: Kenya Airways flies from Nairobi to Nampula, with direct flights on their aircraft or LAM Airline, for $1,000 and above.