A guest post by  @Wanyama of Africa Knows – see their extensive Images of Madagascar collection.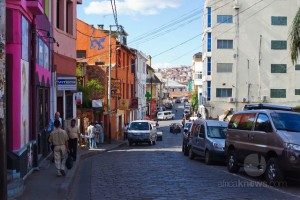 The Malagasy currency is Ariary with $1 = MGA 2200
Getting There: Air Madagascar has the cheapest direct return flights at around $780. The only catch is that this flight operates on Fridays only. Kenya Airways offers the best options from Nairobi to Antananarivo with three flights weekly at around $900. Travel on other days drastically increases the price of the ticket by over 100% and some of the travel times for the three-hour flight can take 20 hours as you connect through other cities within and outside Africa.
Ivato International Airport in Tana is a small airport with an average of four landings and takeoffs per hour in the middle of the day. The airport has one restaurant and snack bar with a few small duty-free shops stocking souvenirs, chocolate, alcohol, tobacco, luggage, fragrance and clothing for sale.
Entry visas are offered at the airport in an attempt to boost the tourism numbers of Madagascar. The visa is usually free for visitors staying less than 30 days.  The process takes between 30 to 45 minutes as there are usually long lines of foreigners entering the country.
Getting Around: As is common in most airports, taxi drivers await passengers to take them to town. An average fare from Ivato International Airport to downtown Antananarivo is around MGA 40,000 or $19.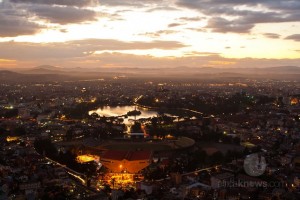 Most locals take the minibuses or "matatus" in Swahili. Most minivans can either seat 14 or 18 commuters. These mini buses are notorious for overloading passengers and a 14-seater van can at times carry 20 passengers.  Minibuses usually cost around 30 times cheaper than a taxi.
For foreigners, taxis are the regular mode of transportation. One needs to negotiate with the driver to determine both the price and if the driver is interested in going in your direction. Unlike most cities where a taxi will deliver a fare to any region of the city, taxi drivers in Tana (short of Antananarivo) will often refuse to take a fare if they feel it is "too far".  It is important to negotiate the fare before boarding a taxi.
Antananarivo is pretty secure although with limited street lighting. Once during the day, I walked downtown taking photos and my friends insisted I be very careful with my camera as sometimes thieves would come about. I never felt threatened though or felt I was in danger of being robbed. Electricity is not that reliable in some areas of the city. Tana also has very few street lights.
Communications:   In Madagascar, you either speak French or Malagasy. Since I spoke neither, I concentrated on hanging out with people who spoke English. It was rather embarrassing when I attended meetings and needed a translator or someone who could understand English to get any message across. I have now vowed to learn French as soon as is possible.
In Madagascar, Kenya's leading network Safaricom doesn't work. The island doesn't have any roaming arrangements with Safaricom. There are three main carriers: Telma which is the national carrier, Orange and Bharti Airtel.
I was fortunate to stay at a friend's place and he had Blueline's (a cable and internet service provider offering triple play services) home internet. The connection was pretty solid and up at all times. There were a number of cybercafes that I saw in town but didn't get a chance to visit any. I attended two conferences and both Blueline and Orange had free wi-fi for attendees.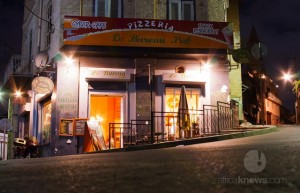 Shopping & Sight-seeing: Most tourists in Antananarivo visit the main market in downtown for their shopping. Spices are a national export and the markets are full of a wide variety of spices. Traders will offer you different spices and provide you with instructions on how to use them correctly. For souvenirs, tourist purchase stuffed imitation lemur dolls and sculptures of baobab trees.
Antananarivo is quite a picturesque city. Built on a hill and with the old-world French charm, the architecture and cobblestoned streets make for a wonderful discovery of a city that keeps offering more to the senses as often as possible. The streets are narrow and if you are on the hillside, every block offers a great view of downtown down below. It is a great city to walk as opposed to driving in.
Rice paddies also lie on the outskirt of the city and as you drive from the airport, you go through miles of these paddies. It is an interesting juxtaposition of the rural and urban settings.
From the air, the most surprising thing is the red rivers filled with topsoil eroded from the many slash-and-burn farms dotting the landscape. This is a land where traditional farming practices greatly affect the environment and the long-term viability of agriculture.
The whole city of Tana is a visual feast. Being an old French colony, the city has an old European feel about it. The city is built on a hill with a sign stating "Antananarivo" overlooking downtown similar to the famous Hollywood sign. Atop the hill sits the Queen's Palace and a number of hotels and old French palaces that are accessed through narrow cobblestoned streets. Atop the hill is an impressive view of downtown Tana with the national stadium and a manmade lake with a sculpture of an angel in the foreground.
Odd Points: – In Madagascar, they have a drink with small amounts of alcohol that is made specifically for children. This early introduction to "happy hour" is called Fresh (Panache).
– Malagasy people aren't aggressive in business. You can arrive at a store around closing time and the shopkeeper will rather close the shop than serve that last client. In the same manner, a taxi will let a fare go since "you aren't going in the direction I am".
– The International Madagascan Fair (FIM) was full of great-looking and well-dressed women who acted as brand hostesses. The whole fair felt like a competition of who had the most beautiful women as hostesses rather than how can we do business together.
Local legends: Being an island nation, it was interesting to note that Malagasy people believe some families come from mermaids.