Tatu City was endorsed as a Kenya Vision 2030 project and an event was held in Nairobi to celebrate the signing and also clear up some misconceptions about the project.
The Future is Urban Mugo Kibati said urbanization is the future, the world over, and it will happen without proper planning, Vimal Shah said that while Kenya is currently about 30% urbanized, by 2030 Kenya (which is just 212 months away), this will have risen to an urbanized population of about 75% urbanized. Are they going to stay in poorly planned cities or better-articulated developments?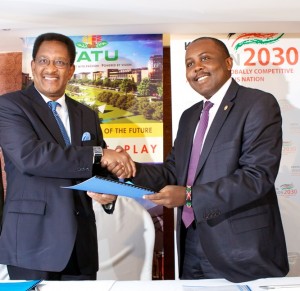 What is it? Dr. Gituro Wainaina, who is one of the Vision 2030 secretariat directors said that the message must get out that Tatu is not a gated community, it is where you work or where you sleep. Later it was mentioned that it was a brand new city, that will complement, not replace Nairobi, and at completion will be worth $5 billion – the single biggest FDI injection. It looks new and different from other projects (every toilet in Tatu City will flush with recycled water. Every roof should harvest rainwater!) and the Ruiru Council has embraced the project, are building capacity to manage with Tatu and are are going to reap the benefits of the project, which might lead other municipalities and counties to do that.
Vision 2030 is not about Government Projects: Mugo Kibati said that Vision 2030 is not about government projects and they envision that the majority of projects will be by private investments or government partnerships with the private sector. He said that the Government is only meant to be a facilitator that provides incentives – adding that with Tatu on one hand and the government's planned technology city in Konza on the other, he is watching the race to see which will complete theirs faster – the public sector or the private sector?
Nairobi needs 10 Tatu Cities: Tatu will do create 3,000 houses a year in a country that has an annual housing shortage of 35,000 to 40,000 per year. Nyagah said that Nairobi needs another 10 Tatu's to barely satisfy the demand and that they welcomed other mega housing developments that have been inspired such as Migaa, Thika Greens, and on other towns like Eldoret (Sergoit)
Is Tatu is Destroying Farmland? At a time when the country can't feed itself adequately, this has been partly attributed to the use of land has been attributed to land use Mugo Kibati said that current 60% farmers in Kenya, are feeding about 80% of the citizens. In future, the government would have to make some harsh decisions about denoting land as agrarian, commercial, residential etc. (in a Land Use Masterplan). Having a 70% urban population in 2030 will still leave 30% in rural areas which is still high. The current subdivision of arable land is unsustainable, and the government has to get more people out of farms and find them employment in other sectors; this will leave arable farming to farmers, who will mechanize, and invest in-agro business; i.e. Farming should be done by professionals, as it is in developed countries like the US that are able more than feed their countries and export surplus with less than 5% of their population being farmers.
M-Tatu Mortgage?: Nyagah challenged James Mwangi, the absent chairman of vision 2030 (who's also the Equity bank CEO), to create to create a mortgage, where someone can repay a daily amount e.g. kshs 500 per day and buy a house and name it M-Tatu.