There's an old company located near the port of Mombasa called the African Marine and General Engineering Company Limited – (AMGECO) which is a dry dock ship repair facility, and one of its kind on the East Coast of Africa.
The company has a long history in East Africa and has gone through ownership and management changes over several decades, but the core investment is the Lloyd's-certified giant facility & dry dock which carries out all manner of ship repairs including steel & metalwork, engine servicing, mechanical, electrical, cabin/woodwork, refrigeration/air conditioning and hull-cleaning among others. They also re-stock ships with provisions like food and water.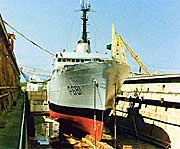 pic from their website
The facility can handle repairs of various ships including cruise liners, military, cargo, tankers and others in its 40-metre wide berth, and currently, they are repairing one of the old Kenya Likoni ferries.
The skilled work and scope of repairs is fascinating, and ranges from light repairs of lifeboats to heavy ship re-building in their dry dock – and it makes for an interesting place to visit in Mombasa if you get the chance