This week, Ethiopia's new Prime Minister, Dr. Abiy Ahmed Ali, visited Kenya on a state visit and with his host, President Uhuru Kenyatta made commitments for regional infrastructure projects of aviation roads, railway, and electricity.
According to the joint communique released by Kenya's President, some resolutions going forward from their talks include:
The two countries will develop Moyale on the border as a city and economic zone.
 Kenya will avail land to the Ethiopia government at Kenya's new port in Lamu that is under construction, and Ethiopia will develop that to facilitate logistics for their country,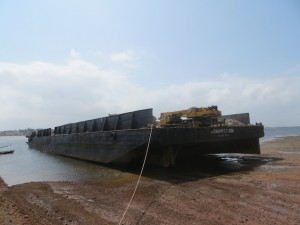 The two countries will develop the LAPSSET projects including the road from Isiolo, (via Moyale) to Addis Ababa, a railway line from Addis to Nairobi and an electricity transmission line between the two countries. They would also supervise the road between Lamu, to Moyale (via Garissa and Isiolo) and on to Addis (via (Hawassa).
Ethiopian Airlines would be granted a second flight frequency to Mombasa,
Also, the two countries will 

have joint 

military

 training even as the leaders the lack of  international support to combat Alshabab through AMSIOM which faced 

inadequate funding and attention. The countries would also cooperate on agriculture, and the exchange of prisoners (edit: this is already happening).
Changes at Lamu are coming, including land acquisition by the government which has been slow and sometimes controversial and recently, a court ruled that the government should compensate Lamu fishermen (4,600 of them) for not consulting them on the port design plans.