The Rockefeller Foundation involvement in Africa goes as far back as 1914 and one of their goals is to strengthen food security in sub-Saharan Africa.
Climate change is affecting food security and the current floods in Pakistan attest and African farmers are seeing wild swings in weather, coping with higher temperatures, less dependable rainfall, and experiencing longer droughts. In Kenya, the Rockefeller Foundation estimates that maize production could decline by 30% in the next 20 years.
Africa countries need to recognize their vulnerability to climate change as ½ billion people depend on agriculture for their livelihoods, yet some governments are instead selling off buying tracts of productive land to other countries who are themselves investing to enhance their own food security through geographic diversification
The Foundation has thus made agricultural investments improve their productivity of farmers by reducing the risks they face through key innovations including
– Developing new affordable insurance products for small farmers & pastoralists that are indexed to weather; this encourages farmers to increase land & agricultural investment with the knowledge that they may be compensated if weather conditions adverse affect their harvest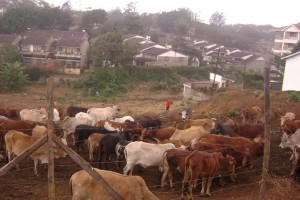 pastoralists & their cattle camp in Nairobi's kileleshwa suburb during 2009 drought
– Funded the World Food Program to develop a software platform to predict most destructive elements; Known as RiskView, it can be customized or every district in every country in Africa and allows governments and aid agencies to when and where a drought will occur.
– Funded
Kencall
to implement a national helpline for farmers, staffed by a team of experts to answer farmer question on climate change, seeds, fertilizer, agro-dealer location etc – this will help overcome a challenge many famers don't try new techniques or seeds because they don't have enough information to take a risk. The information collected will become a research resource even outside Kenya.
– Partnered with Kenya-based Alliance for Green Revolution in Africa (AGRA), in a $50 million loan program through Equity Bank's 'kilimo biashara' program in which the Foundation undertook some risk guarantee enabling the Bank lend to small farmers at below market risks who take up other products like fertilizer weather insurance, and use the help line.