A guest post
Note: A Kenya shillings converts to ~ CFA 5 (closer to 4.5)
Getting there: Kenya Airways flies three times a week to Douala and to Yaoundé. The Nairobi-Douala trip has a 45 minutes stopover in Bangui (CAR). Speaking of which, Titus Naikuni should have the staff on this route training the rest of KQ staff on the other KQ routes as they were really, really good.
Kenyan citizens need a visa to get into Cameroon. You have to make arrangements with your host for a visa before you get there. The visa application fee is 5,000 CFA (approx. 1 USD= 450 CFA).
Some tips:
• Ask your host to mail you the approved visa form by mail if possible. A scanned copy works, but the officials will require the original at the airport.
• Have with you two copies of the photo page of your passport as the visa processing officials at the airport (in Douala) will ask you to make photocopies of this for your visa processing.
• The visa itself costs CFA 50,000 (approx. $100) for a single entry visa that is valid for up to 30 days.
• You must have a Yellow Fever card. If you don't, they will re-vaccinate you. The Santé desk had a number of poor unfortunates who didn't have their cards who had to get jabbed again.
• You will need CFA 10,000 for exit visa / stamp duty to leave Cameroon. Note that there is no visible information on the exit visa fee (not in the visa application, or the immigration desk, or in the airport). To be fair, it is visibly posted next to the desk where you pay this stamp duty, which is at the EXIT gate. So, please reserve CFA 10,000 for exit stamp duty.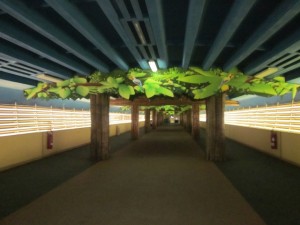 Douala Airport
Getting Around: For the intrepid, there are many boda bodas (called "okadas") that will take you pretty much wherever you want as there are no restrictions on where the boda bodas are allowed to go. A quick scan showed matatus, but these were few and far between in Douala. More common are cabs, which will be painted yellow to show their PSV status.
Also, there's the unfortunately blatant, shameless shakedowns of the PSVs by cops. The driver slows down at the traffic checkpoint, the tout jumps out and gives the cops money and runs back to the car, then the driver then moves on.
Cameroon is super green and lush. If land were a woman, Cameroon would be this woman. Seriously beautiful. The roads, at least the ones from Douala to Limbe & Buea, were smooth, with no worries. Do check out the rubber and palm oil trees especially if you've never seen one and only read about them in Geography class or in the works of West African writers in English literature.
Business & Infrastructure: Money: You need to get dollars, and the airport has many hawkers selling and buying dollars, but you'll get a better rate in the forex bureaus in town. Also, Cameroon restricts the amount of Cameroonian Francs (CFA) that you can leave with so make sure you change these back to dollars in town as the airport rates are quite awful. The hotel rates are even worse (e.g. 1USD:CFA425 in the hotels as opposed to 1:485 in the forex bureaus). To the best of my knowledge there is also no forex bureau in Nairobi that will change the CFAs into Kenyan shillings, so you're stuck with CFAs if you don't do this in-country. Standard Chartered and EcoBank have a presence in Cameroon but the StanChart ATMs dispense money only to StanChart Cameroon cardholders.
Electricity: They use 220 volts and you need a two pin circular plug for your electrical equipment. This is easy to get in Nairobi ( I got mine at Technophile Kenya)
Accommodation: Within Douala, hotel accommodation ranges from the CFA 20,000 slightly seedy and not quite clean variety to the CFA 130,000 Hotel Akwa Palace and the Ibis Hotel in Douala for a more up-market stay. However Hotel Akwa Palace has the nerve to charge you for breakfast (CFA 10,700 at their lousy 1USD: 425 CFA exchange rate) despite charging about $300 per night for a single room.
Weather: Douala in September/ October is hot, humid and thus hellish. It's perhaps like going to a sauna in the coast while wearing a woolen three-piece suit, stockings and a wig. This weather will make you more irritable than a black mamba (it would make the Dalai Lama testy) so just remember when you find yourself losing it over some trivial stuff that it's the weather. For this reason, you need an air-conditioned hotel room. Please note, you don't want a room with A/C, you need a room with A/C. A bit out of Douala, I was given the choice of a room with a door lock that didn't quite work, or a room with A/C. I chose the room with A/C over a functioning lock. Yes. It is that serious.
Food: Seafood in Cameroon is a must-eat. Try the Poisson DG (fish) with dodo (fried plantain). I also predated on the predators of the sea by eating barracuda (Delicious). Also, try the shrimp/ prawns , which Cameroon is famous for (the name Cameroon is derived from "Rio dos Camarões" or River of Shrimp in Portuguese).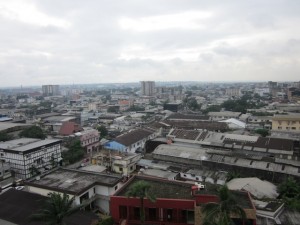 Douala daytime
Shopping: Unfortunately, there are no Chantal Biya wigs despite asking everyone I knew where to get them. You can however reproduce this look with 4 strategically placed lace front wigs, one placed about 2 inches below the other!!