Last Friday, the management of Kenya Breweries (KBL) offered a media tour of their plant at Ruaraka, Nairobi. One of the oldest companies in Kenya, KBL is now part of East African Breweries (EABL) that is controlled by Diageo. The tour was a chance to walk see their production lines for different products like Tusker beers, Senator, and spirits like Kenya Cane. It was also a chance to meet and hear the top management of including Managing Director of Kenya Breweries, Jane Karuku, and heads of some divisions including bottled beer (Janice Kemoli), Spirits (Annjoy Muhoro) Sustainability (Jean Kiarie), and Innovations (Fred Otieno)
EABL has 2017 net sales of Kshs 70 billion (~$700 million) and Kshs 8.5 billion ($85 million) profit. Their financial year ended just before the election season in Kenya which saw nationwide general elections held on August 8 and a surprise repeat Presidential one on October 26. and the KBL Managing Director said that the prolonged elections period had resulted in a slow first half of their new year, including the Christmas season which is usually a peak. EABL gets 72% of its revenue from Kenya, 17% from Uganda, and 11% from Tanzania, and they also serve South Sudan, Rwanda, and Burundi.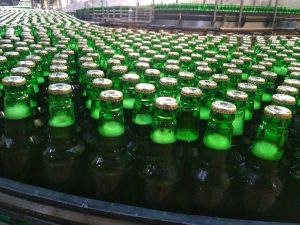 Beer is still the cornerstone of the company, accounting for 80% of their revenue. This is led by Tusker, then Guinness (second by volume). Premium and lite beers are growing around the world and KBL has Tusker malt and Tusker Lite. There is also Senator Lager that was introduced in Kenya to combat the illicit alcohol trade. Senator is distributed by kegs and sold by pitcher or glass, And as part of a Kshs 15 billion Senator investments, a  new Senator line was commissioned in Kisumu, and MD Karuku said that the old plant has a great location to serve Uganda, Tanzania, South Sudan, is next to Lake Victoria, and it is modular in design which will allow more product lines to be added on in future. She said beer would continue to be the main part of their future as beer keeps up with GDP (growing at about 5% a year) and grows as young people reach the legal drinking age.
They also have spirits which contribute about 20% of the revenue of the company, and they control half the spirits market in Kenya. They have three segments of spirits; Reserve (luxury) in which they have  Singleton whiskey, Ciroc, and Tanqueray gin. Then they have a Premium segment that includes Johnnie Walker (Kenya was the fastest growing Scotch market for Diageo in 2017) & liquours (Baileys which is marketed for ladies). Finally, they have a Mainstream segment, which is 80% of their spirits business in Kenya. Their main products here are Kenya Cane, a forty-year-old sugar cane blend, and also Chrome vodka. The company invested Kshs 900 million in a line that will double their spirits production capability, and they aim to grow spirits contribution from 20% to 30% of revenue. They also invested in tamper-proof plastic seals to combat a wave of counterfeiting of popular alcohol brand products in Kenya and 50% of the alcohol purchased is illicit.
In life, tastes and consumer preferences are constantly shifting, and the company has an innovation division that tries to anticipate what consumers will like in the future.  New products rolled out include a citrus fusion variant of Kenya Cane, non-alcoholic Álvaro (which is being revamped), a craft premium beer called Hop House 13, Tusker Cider, Tusker draft beer )that is predominantly at all-inclusive hotels at the Kenya coast), and Zinga a new beer brand being piloted that is priced between Senator and their other bottled beers. With the new citrus fusion introduction, sales of Kenya Cane grew 46% last year, and overall innovation contributed 18% to turnover in Kenya and 33% in Tanzania.
Last year EABL contributed Kshs 52 billion in taxes (it was the third largest taxpayer after Safaricom and the Teachers Service Commission) equivalent to  4% of government revenue.   Besides with the Senator beer, KBL also works with the government to explain that importance of a stable tax regime and business environment, and have pushed a caution that alcohol is not price-sensitive to the sin-taxes that seem to be a favourite add-on in the national budget every year. Already, while a Tusker bottler has a recommended retail price of Kshs 140, Kshs 84 shillings will go out as tax, Kshs 23 goes to the distribution chain and the company gets Kshs 33.
For the long-term, EABL which contributes 0.8% to Kenya's GDP plans to source 100% of their inputs locally by 2020 (up from the current 80%). They work with 31,000 farmers through their East Africa Maltings and pay Barley farmers Kshs 1.7 billion and sorghum ones Kshs 660 million every year, with the new Senator line expected to see 15,000 more farmers contracted, and 5,000 new Senator outlets. The company has 102 distributors (57 main ones, 45 senator ones) and 22,000 main outlets and 19,000 senator ones and they handle distribution to get products to customers at the lowest price possible.  The outlets have benefitted through getting access to management systems and electronic tax receipt (ETR) systems, and the next step is to harness all the data they have collected to enable better decision-making. Other initiatives of KBL include 'Utado' (which encourages responsible enjoyment of their products by advising consumers to take taxis, drink water, eat food) and Heshima (through which the recruited illicit alcohol sellers and trained and turned them into entrepreneurs and sellers of a legal affordable product).
A Tusker Beer remains part of the urban inflation index for tracking changes in the cost of living in Nairobi over time.