The company which was founded in December 1908 by Lord Delamere to mill his wheat harvest, is now a century old. It is celebrating its fourth straight years of profits on the back of improved sales Kshs. 9.5 billion (~$125 million) and profits of Kshs. 564 million (~$7.5 million). The Chairman commented on the improvement from the time a few years back when they used to record losses and had their financial accounts qualified by the auditors.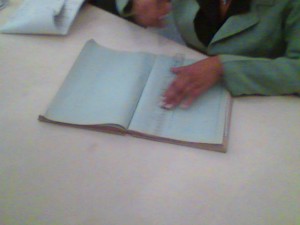 slow registration
Excerpts: missed a few minutes of the meeting as the registration was really slow – just two ladies, with no computer. They had to write every shareholder name down, and have them sign, but without verification of their legitimacy
Bonus: The company offering a (1) bonus share for each five (5) held to reward shareholders since the board had opted not to pay a cash dividend this year.
Company structure: The Seaboard Corporation is a management company and shareholder that contributed to the turnaround. However their presence is a sore point with some shareholders unhappy that while they have no divined, Seaboard gets paid a minimum of Kshs. 12 million a year that will escalate as the company gets more profitable. Their agreement has also been extended by the directors for another five years and there was also a question on the loans owed to the company that could be called in at any time – an unlikely scenario according to the board
– Shareholders also asked on the relationship between Nampak (a partner company) and Bulpack which was a joint venture between Nampak and Unga to make bags. The dividend paid that appears in the accounts was paid to Unga from Bulpak, and not by Unga.
(No) Dividend: Though this was the fourth year of profits, the board said it still needed to retain cash for plant & machinery replacement and to also strengthen the balance sheet.
No Maize in Kenya: Later the Unga MD Nicholas Hutchinson gave a talk on the current maize shortage and stated that the company (Unga) had ran out of maize (corn) stock floor eight days ago. He said there is not enough maize in the country, and the late decision by the Government to import maize, means it will trickle to the markets slowly – by mid December. The Cabinet may release more to millers, but the Government also wants to build up grain reserves and assist displaced people (flood, post-election violence victims)
The maize harvest this year was bad – Unga is offering Kshs. 2,500 per and 2,250 in Nairobi and Eldoret respectively but are still not able to get enough maize so they are operating about 35 – 40% which may show in the coming results
For consumers faced with a high retail price (just under Kshs. 100 for a 2kg pack, it's a good time for farmers, but bad for consumers (dangerous?) – as prices may not drop significantly even after the supply. He said that the Government will be importing maize to Nairobi at Kshs. 2,500 if no duty is paid and that it must speculative ventures – which has affected supply of maize. Also, next year's maize harvest could be just as bad.
Receivables: are much higher than the year before. Management responded that its from their increased business. They had in fact reduced the number of customers i.e. 55 key wholesalers that they deal (down from 140) with and gave them incentives to pay cash or open bank guarantees.
Outlook: – Asked about market share, management said it was growing. They focus on urban markets and supermarkets, and don't emphasize rural sales as entrepreneurs can flour mill and sell it cheaper than Unga branded products.
– Other subsidiaries: are performing well like the Uganda one and animal feed division – Unga had anticipated a maize shortage so had started to substitute maize with wheat in their animal feed. Wheat subsidiary is good though the current good prices may fall next year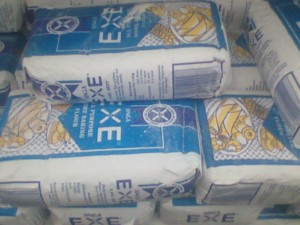 Shareholder gift
Goodies
: Each shareholder present got a voucher for a bale of baking flour. Which retails at about Kshs. 1,500 ($20)