Last week, Kenya's opposition movement, the National Super Alliance (NASA), who boycotted the repeat presidential election held on October 26, announced an "economic liberation programme" and called on their followers to boycott the products of three companies Bidco, Brookside, and Safaricom.
We urge all NRM members to boycott the following products from Safaricom Ltd, Brookside Dairy Ltd and Bidco Africa Ltd #Resist pic.twitter.com/fkQLUMlj0F

— Azimio TV (@AzimioTv) November 3, 2017
What's the link?
Brookside Dairies is associated with the family of President Uhuru Kenyatta. The company was started in 1993 and Brookside has grown to control about  44% of the processed milk market in the country, ahead of New KCC and Githunguri Dairies.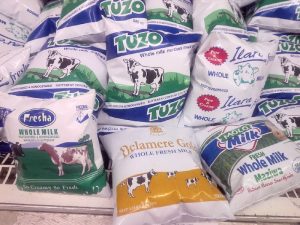 Brookside has acquired several dairy companies and still sells milk under their original brands including Tuzo, Molo Milk, Ilara and Delamere.  While the NASA statement mentions that when Jubilee took over milk farmers were getting Kshs 35 per litre while consumers paid Kshs 72 per litre and that today farmers still get Kshs 35 while consumers pay 120 per litre, the economics of milk prices is a complex one, not attributed to the processor alone. Brookside collects milk from over 160,000 farmers every day.
Safaricom: MPs from the NASA side have  accused Safaricom, arguably Kenya's most successful company, and some of its employees who they publicly named, of enabling  incorrect election results to be transmitted during the August 8 elections, something which the company has denied and also expressed concern that their employees had been needlessly endangered as they did their jobs and the company merely fulfilled a contract to support the 2017 Kenya general election.
NASA MPs have gone ahead to publicly switch from using Safaricom to rival Airtel, even as Safaricom dealers warned of dire effects for their employees and communities.
In keeping with #NASAEconomicBoycott, Hon. Raila Odinga officially switched from Safaricom to Airtel today #Resist pic.twitter.com/X4yeknkvJZ

— Azimio TV (@AzimioTv) November 6, 2017
Safaricom has 6 of its 45 shops in the Western/ Nyanza Region which is the bedrock of NASA support. Whether this is a turning point for Airtel in Kenya as a company which has been branded as Kencel, Celtel, and Zain and which has steadily lost ground and value to Safaricom over the years, remains to be seen.
Safaricom dealers say agents harmed after boycott call – VIDEO https://t.co/ZdEE5WWYOU via @BD_Africa

— Robert Nagila (@Rnagila) November 7, 2017
But members of parliament from ODM (the main party in NASA)  have in the past voiced critical comments about some of their issues with Safaricom from even before the 2017 election –  especially during debate on the gambling and sport betting bills in the last parliament, earlier this year.
Gumbo: Safaricom supports social media which is a forest of mediocrity #BungeLiveKE

— Mzalendo (@MzalendoWatch) February 9, 2017
Here are some comments by Nicholas Gumbo, the then-Member of Parliament for Rarieda and Chairman of the Public Accounts Committee in the National Assembly.
Gumbo: Safaricom makes billions doing what? It destroys tangible economic activity #BungeLiveKE

— Mzalendo (@MzalendoWatch) February 9, 2017
Then-Member of Parliament for Gem and Deputy Minority Leader, Jakoyo Midiwo threatened on more than one occasion to introduce legislation to break Safaricom.
Midiwo: The sports betting companies are controlled by Safaricom, which we must next break into three companies #BungeLiveKE

— Mzalendo (@MzalendoWatch) February 16, 2017
Bidco: The edible oils company is probably the most vulnerable of the three brands and was likely targeted because its group chairman Vimal Shah, is the chairman of MKenya Daima an offshoot of the Kenya Private Sector Alliance (KEPSA), of which he's a past Chairman, and which has throughout the election season been championing for respect of the election outcomes, grievances to be addressed in the constitutional ways (through the courts), for politicians to be careful about their public utterances and for normal business life to resume. KEPSA recently released a statement that read:
This is why we have consistently called Kenyans' attention to the disastrous economic consequences of the present uncertainty which affects all Kenyans. The Private Sector having reviewed the loss and has estimated it to be about 10 per cent of the GDP equivalent to Kshs 700 Billion
Earlier this year, Bidco announced plans to become a billion-dollar turnover (Kshs 103 billion) company by 2021 (their current turnover is Kshs 25 billion) by diversifying into the production of fruit juice, soft drinks, and cereal products.
edit May 1. 2018 Boycott lifted: 
We had earlier said to boycott Bidco, Brookside, Safaricom, Haco and others. We now withdraw that directive. We forgive them and our people can now do business with them – @RailaOdinga Labour Day speech https://t.co/umZJg7ryLL

— Bankelele (@bankelele) May 1, 2018
edit March 21, 2023. Hon. Raila Odinga announced an immediate boycott of Safaricom PLC, the Kenya Commercial Bank Group and the Radio Africa Media (Star newspaper).