The fifth Nairobi Securities Exchange (NSE) Charity Day held today spotlighted the prevention and management of cancer in Kenya. All the day's equities trading fees will be donated to the National Cancer Institute of Kenya, a body that has been mandated to coordinate all cancer management activity including research and the setting up a national cancer registry.
NSE Vice Chairman Bob Karina said that previous Charity Day's had been staged with different themes and raised over Kshs 30 million to support identified worthy causes. The NSE supported wildlife conservation in 2015, the environment in 2016, and girl-child protection in 2017, while last year they supported education endeavours. The NSE Company Secretary Kuria Waithaka mentioned organizations that have received support from previous "charity days" included SOS Children's Home, Joy Children's Home, Save the Elephants and the Borana Ranch Conservancy – where the NSE had adopted and named a rhino "Hisa," which is Swahili for 'shares.'
Barclays Kenya's Head of Markets, Anthony Kirui said that the Barclays which had been a partner of the NSE Charity Day for the last three years was in the final stage of its brand transition to Absa. The new identity was being rolled out with a strategy to put customers at the front and some of the tailor-made services the bank now has include unsecured credit for small & medium enterprises (SME's) of up to Kshs 10 million (~$100,000), and LPO financing of up to Kshs 50 million, while mortgages can be 100% financed.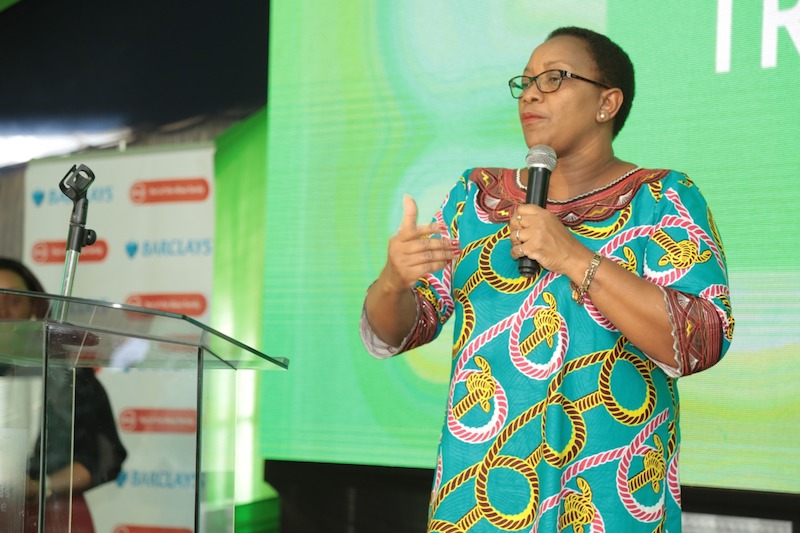 Kenya's Cabinet Secretary in the Ministry of Health, Sicily Kariuki said that the country recorded 48,000 new detections of cancer and 33,000 deaths every year and that everyone knows someone who has been affected or has fundraised towards someone's cancer treatment.
She added that while the Government was investing in interventions in the cancer fight and to reduce the cancer burden through new radiotherapy and cancer centres, 80% of the fight was within people's control; she asked that people mind their lifestyles, meals, physical activity, environments & communities, and go for early screenings.
Celebrity participants at the trading day included Sheila Mwanyigha, Terryanne Chebet Suzie Wokabi, Nameless, Patricia Kihoro, Pinky Ghelani and June Gachui, among others, placed NSE client trades online and over phones working alongside real stockbrokers. The day saw 13.27 million shares traded worth Kshs 528.6 million with top activities being around Safaricom and Equity Bank.