Getting There: Qatar Air was the best, and the only real option picked by our travel agent. We booked tickets early and they cost about $1,000 for a round trip. The flights are Nairobi-Doha and Doha-Baku with a total journey time of about eight hours. Our layover in Doha was short and we had to sprint through the airport to get our connecting flight. Fortunately, we had received boarding passes for the Baku leg in Nairobi, but in the rush, we lost some documents.
In the weeks before departure, there was some confusion about how to obtain a visa to enter Azerbaijan. The country has an e-visa page, but the pull-down menu of country choices does not list Kenya. Some other travellers going for the race chose South Africa as the nearest country to complete the e-visa application but we chose to wing it.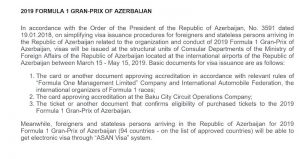 The Formula One race is a big business deal in Baku, and there was a Presidential directive on the internet that the Government of Azerbaijan would offer visas on arrival for F1 fans coming to attend the race. We had arrived early for check-in for our flight in Nairobi which was a good thing as we had to haggle with the Qatar Air staff and make some calls as they checked a book register of passengers. Eventually, they allowed us to proceed and board. There was no issue in Doha, other than the sprint across to catch the connecting flight.
On arrival at Heydar Aliyev International Airport (GYD) in Baku, there was a special desk section for F1 fans with special ushers around, dressed in F1 garb, ready to assist. You showed your ticket, paid a $26 fee, and were issued with a 30-day single-entry visa. Note: We had bought our tickets through the official F1.com site and they arrived two weeks before the race, delivered from the UK by DHL to Nairobi.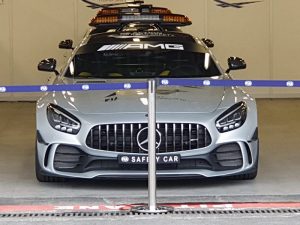 For other fans who already had applied for and got e-visas online, they could walk up to airport machines and get served.
After getting an e-visa, you then proceed to the immigration area.  There, they ask a few questions about the purpose of your trip, and you also have to provide an email and phone number (we gave Kenyan ones).
if you intend to stay for more days in the country, you have to register online within 10 days of arrival and even the hotel you are staying at can process this
Getting Around: Baku is a small city and we walked end-to-end across it on different days. There was no need for taxis as it's a very walkable city with lots of sights. We took a taxi from the airport that cost 50 Manat for a distance of about 40 kilometers using an unofficial cab (the official airport ones charge 70 Manat) and that was the only ride we hailed. All cabs are old Mercedes cars. As you walk around, note that weather changes were quite abrupt from sunny to cloudy. days were ok, but the nights were chilly.
Where to Stay: We had made a reservation at the Viva Boutique using Booking.com which we had made a while back and the rate was about $120 (200 Manat). They cost much more if you have booked late. Hotels tend to block off and charge higher fees for Grand Prix weekends with a room at about 400 Manat on race day while other hotels  charge 800 Manat.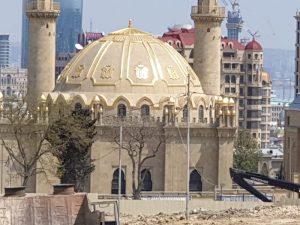 The hotel is not far from the track and we walked to different events of the race weekend.
We had arrived a few days before the race and had made an Airbnb reservation for the first few days. The homeowner had offered to pick us up from the airport, and we had even negotiated an amount for this. But after clearing immigration, the Airbnb host was not answering his phone and we got worried. So we went to the hotel and negotiated for extra nights.
What to Eat: Restaurants are many, from local ones to others serving common international cuisines such as London Pub, McDonald's and Starbucks.  Local restaurants had many dishes which we did not try. They have chicken served in many different styles and we ate a lot of chips and bacon.
Staying in Touch: It's usually advisable, when visiting a new country, to get a local phone SIM card, in order to avoid roaming rates that are very expensive. We got Azercell lines from a booth at the airport that cost about $20 which came with lots of minutes, SMS and a 10 GB data bundle that lasted the whole trip. This enabled lots of phone chats, browsing, and sharing of images and videos from the Baku trip with friends. However, like in a few other countries, you can't make phone calls on WhatsApp – a VPN is advisable for that.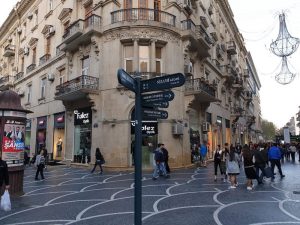 Shopping & Sight-Seeing: The local currency is called the Manat. It's quite strong $1 = 1.70 Manat (so a Manat is ~$0.6 or ~EUR 0.5). Credit cards work well here for most purchases, but it is always a good idea to call your bank before you travel to any country.
Sights to see on the streets of Baku are the full-grown trees, especially in the old city section. The buildings also have interesting architectural designs, walling and engineering of tiles on newer buildings.
Baku is a small town. Malls are modest in size. Some kiosks are rather expensive, compared to the supermarkets.  By Monday, after the race, malls were quite empty.
One popular tourist attraction is Yanar Dağ, ("burning mountain"), a natural gas fire which blazes continuously on a hillside on the Absheron Peninsula on the Caspian Sea near Baku. Tourist charges to visit are 2 Manat each.
Race Day:  The race is at 4:10 PM, which is late compared to other F1 races, and Baku is an hour ahead of Nairobi.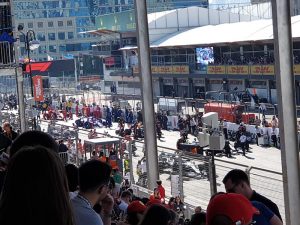 We had great seats across the pit lane that cost about $500 and it was a fun vantage point. The race itself was kind of anti-climactic given the dominance of the Mercedes team who recorded their fourth consecutive 1-2 finish in 2019, and pre-race favourites Ferrari again seemed lost. The stage was set on Friday, during practice, when one of the cars from team Williams ran over a manhole cover which had come loose. This caused extensive damage to the car and the session had to be stopped. Other teams, including Ferrari, had their practice time limited as a result and this may have contributed to their Sunday pace.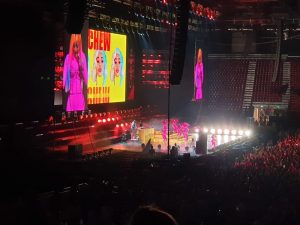 During the weekend, we did the pit-walk to view cars up close in the garages. Many F1 races now put on huge musical concerts to entertain fans from across the world who have come to attend, and this year Baku had American rap star Cardi B performing on Sunday night, after the race.
Odd Points: You can exchange foreign currency with no questions asked and no need to show any identification (ID) in Baku.
A guest post by @asemutwa who travelled to watch the Formula 1 Socar Azerbaijan Grand Prix 2019 race in Baku.
Also see this other race trip report.- Guide to Abu Dhabi.