Yesterday saw the launch of a book entitled "Youth In Kenya: A Ticking Time Bomb" which is co-authored by a friend. The book looks at the challenge and job opportunities for the youth in Kenya, in terms of incentives, appropriate skills, cost of business, and new jobs for the youth, who one guest described as only interested in watching English soccer matches in the villages.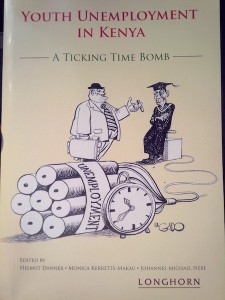 Some excerpts 
Kenya's education system was designed by the British to be a source of raw materials and cheap labour.
Education CS Fred Matiangi: No other sub-Saharan Africa has put the resources in education that Kenya has in 50 years, and with 290 technical education institutions, there will be one in every constituency.
George Njenga: There are over 70,000 skilled Kenyans working in South Africa. It is important to look at the training of teachers, so that they also impact good foundation and lessons to the youth and Strathmore Business School has started on that.
Jonathan Mueke: There have to be standards in the Jua Kali sector – thousands of people produce hoes (jembes) that won't dig, and which Nakumatt (a large supermarket chain) cannot sell.
FT Nyammo: We have thousands of available jobs to be done in the coffee, tea, and dairy sectors in rural Kenya, but no youth are willing to do them as they consider them to be menial. Also, the Jua Kali sector provides 80% of employment when the economy is good, and the government should channel incentives there to create more Manu Chandarias! (one of Kenya's most renowned industrial entrepreneurs)
One of the books' main authors says he was inspired by media stories from last July, which described the Kenya Judiciary and Ports Authority as being were overwhelmed by job applicants; some had received 80,000 applications for 1,000 jobs advertised and even had stampedes at their offices.
The book was published by Longhorn and sells for Kshs 900  ($10). It's a non-academic book edited for everyone to read.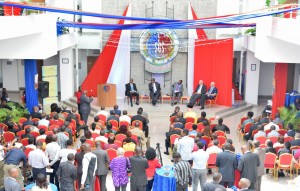 Aside from this, last week,  the KCB (Bank) Group launched "2JIAJIRI", a KShs. 50 billion job creation program under they committed to "set aside Kshs.10 billion annually in the next five years towards driving this enterprise development programme over the funds which will be used largely to support small and medium businesses run by the youth." They hope to "reach 500,000 entrepreneurs (both existing and new ones) in 5 years, thereby creating at least 2.5 million direct and indirect jobs."